YBN Cordae's highly anticipated debut has arrived. The Atlantic Records artist has released The Lost Boy LP, which is comprised of 15 tracks.
"The Lost Boy represents anyone who hasn't found their path or their calling yet," he told Apple Music. "That's kind of where I was at a point in my life, just lost."
Cordae's first studio album includes collaborations with Chance The Rapper, Pusha T, Anderson .Paak, Meek Mill, Ty Dolla $ign and Arin Ray.
Check out Cordae's The Lost Boy stream, cover art and tracklist below.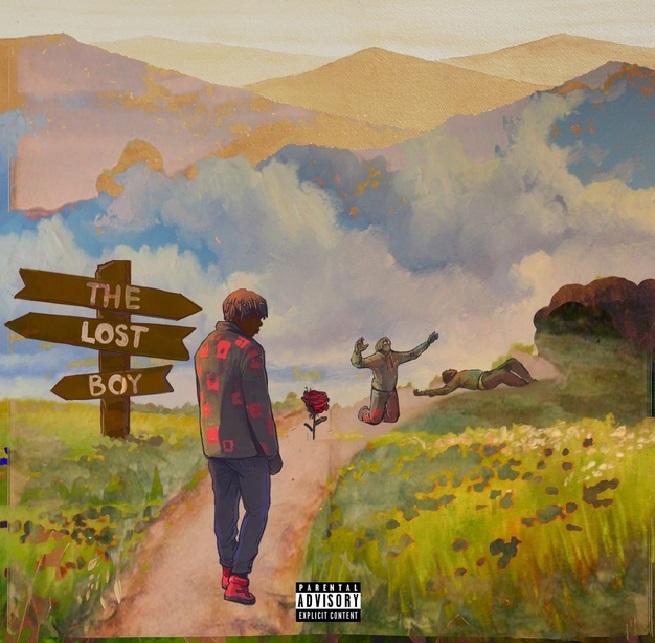 1. Wintertime
2. Have Mercy
3. Sweet Lawd (skit)
4. Bad Idea f. Chance The Rapper
5. Thanksgiving
6. RNP f. Anderson .Paak
7. Broke As Fuck
8. Thousand Words
9. Way Back Home f. Ty Dolla $ign
10. Grandma's House (skit)
11. Been Around
12. Nightmares Are Real f. Pusha T
13. Family Matters f. Arin Ray
14. We Gon Make It f. Meek Mill
15. Lost & Found
YBN Cordae's debut album has a release date. The rising star has announced The Lost Boy LP will drop July 26 in an Instagram post featuring the official cover art.
"My debut project #TheLostBoy is dropping July 26th, track-list coming soon (pre-order link in bio)," he wrote. "Y'all ready ??"
The YBN member recently gave fans a preview of the album by dropping the Chance The Rapper-assisted single "Bad Idea." Pre-orders for the LP are available here.
Check out Cordae's The Lost Boy cover art below.
YBN Cordae, who made a name for himself last year by releasing remixes of J. Cole and Eminem songs, is beginning the rollout for his debut album. The YBN member has announced his first LP will be titled The Lost Boy.
Although Cordae didn't share any other details about the album, he did publicize his upcoming tour dates.
"SUPER EXCITED to announce my 1st headline tour for my debut project titled: 'The Lost Boy,'" he wrote on Instagram. "I can't wait to give y'all this project, and perform the music for y'all in each one of these cities. Official Artwork and release date coming soon, and I got a big surprise for y'all tomorrow! ALSO : PRESALE start tomorrow with general on-sale Friday. Check my story for presale passwords!"
Cordae is scheduled to perform at multiple festivals in North America and Europe over the next few months. He is also set to headline a run of shows in the U.S. and Canada.
Check out Cordae's The Lost Boy Tour dates below.
April 20 – Indio, CA @ Heineken House at Coachella*
April 24 – Houston, TX @ Texas Southern University Spring Fest
April 27 – Washington, DC @ Broccoli City Festival
May 10 – Miami, FL @ Rolling Loud
May 23 – Montreal, QC @ Le National
May 24 – Ottawa, ON @ Bourbon Room
May 26 – St. Paul, MN @ Soundset Festival
June 2 – Atlanta, GA @ Vinyl
June 6 – Houston, TX @ Studio @ Warehouse Live
June 7 – Dallas, TX @ Trees
June 11 – Los Angeles, CA @ The Roxy
June 12 – Sacramento, CA @ Holy Diver
June 14 – Portland, OR @ Hawthorne
June 15 – Vancouver, BC @ Breakout Fest
June 16 – Seattle, WA @ Crocodile
June 19 – Oakland, CA @ New Parish
June 25 – Philadelphia, PA @ Union Transfer
June 26 – New York, NY @ SOB's
June 27 – Toronto, ON @ Mod Club
June 30 – Anaheim, CA @ Chain Reaction
July 4 – Liege, Belgium @ Les Ardentes
July 5 – Frankfort, Germany @ Wireless Festival
July 9 – London, UK @ Islington Academy
July 11 – Grafenhainichen, Germany @ Splash! Festival
July 12 – Frauenfeld, Switzerland @ Openair Frauenfeld
July 13 – Tilburg, Holland @ WOO HAH! Festival
July 19 – Helsinki, Finland Weekend Festival @ Suvilahti
July 21 – Brockton, MA @ Mad City Festival
August 1 – Chicago, IL @ Lollapalooza
* = w/ YBN Nahmir & YBN Almighty Jay