Rapper Trae Tha Truth will receive the Billboard Change Maker Award at the 2021 Billboard Music Awards, dick clark productions and NBC announced on Thursday (May 13).
The award honors an artist or group that speaks truth to power through their music, celebrity and community. Trae Tha Truth is being recognized for his philanthropic work and social justice advocacy. He is the second-ever recipient of the Change Maker Award, after Killer Mike of hip-hop duo Run the Jewels received the inaugural accolade at the 2020 BBMAs.
"Trae exemplifies what it means to be the change you want to see," Datwon Thomas, BBMAs consulting producer and Vibe editor-in-chief, said in a statement. "He is always in a city near you, helping those in need after natural disasters, fighting for justice after tragic events and giving supplies to families to make it to another day. His name 'Tha Truth' fits perfectly with who he is as a community activist and we are honored to celebrate his tireless efforts and giving spirit."
The 40-year-old rapper, who has been regarded as a hometown hero in Houston, has brought significant relief to his city over the past two decades. Following Hurricane Harvey in 2017, he founded the nonprofit The Relief Gang, which provides natural disaster relief to families in need. In 2008, Houston Mayor Bill White marked July 22 as "Trae Day" to honor the rapper's work within his local community. But his work extends beyond Houston, as Trae traveled to Minneapolis in April to support the family of his friend George Floyd during the trial of ex-police officer Derek Chauvin, who was held responsible for Floyd's death and found guilty of murder and manslaughter. In July 2020, Trae and fellow rapper Cordae were arrested in Louisville, Ky., for protesting outside Kentucky Attorney General Daniel Cameron's home demanding justice for Breonna Taylor after she was killed by police.
"I don't look to take the title of an activist. I just look to be Trae. That's just me," he tells Billboard in a new interview. "I'm the type of person that don't stop. I can go for years at a time nonstop. And a lot of people feel like it can wear me down and take me out. But I feel like I'm built for it, because I'm so used to it. So when everybody else is tapped out or stressed, it's normal to me because I have become that rock. I just don't know how to tap out. And maybe that's why it shocks a lot of people because they look, like, 'Hey, you was just here today. Now you somewhere else tomorrow.' It's not in me to stop. I just do what I do."
Trae is further committed to his work by turning his Change Maker Award into a charitable item. The BBMAs is partnering with Trae to offer the first-ever awards show non-fungible token (NFT), which will be available for purchase during BBMAs weekend via Bitski for a limited time. Proceeds from the Trae Tha Truth Change Maker Award NFT will be donated to Angel by Nature, Trae's nonprofit organization dedicated to supporting and uplifting the Houston community.
Hosted by Nick Jonas, the 2021 Billboard Music Awards will air live from the Microsoft Theater in Los Angeles on May 23 at 8 p.m. ET/5 p.m. PT on NBC.
Below, Trae talks to Billboard about how it feels to receive the Change Maker Award ahead of the 2021 BBMAs, the other title he has accepted, and how his late friends George Floyd, DMX and Nipsey Hussle inspire him to keep going long after they're gone.
What was your reaction to hearing that you will be honored at this year's BBMAs with our second-ever Change Maker Award?
It's an honor to be recognized at the level that they are to come reach to somebody like myself that's in the field every day and still on the frontlines. Definitely an honor and a humbling experience just being appreciated. You don't really do things like this for those reasons, but it's a bonus when people do actually value what you do.
What does being a Change Maker mean to you?
I definitely want to change the direction, change the narrative, change the situation, and on top of that, change lives for a lot of people. Not only that, change the culture. There's so many ways I change, whether through the relief work, whether fighting on the frontlines, whether it's just being up for the people, whether it may be the music, whether it may be the accomplishments or coming where we come from where people are not expected to make it or even expected to even reach a certain level of status.
You went to Minneapolis recently to support George Floyd's family during the trial of Derek Chauvin, who was convicted on all three charges of his murder. Following the verdict, you've expressed joy in Instagram videos because of the justice served in Floyd's case. How do you continue to choose joy when you see pain in the communities around you?
I'm numb to pain. I deal with that 99% of the time. But when you have a relationship with the big homie up above, which is God, in every situation He sends to you, it's a lesson and it's a blessing. So even in all the bad that comes my way, I just find the way to understand what was the lesson that I learned out of that, and what's the blessing that comes about? So we make the best of these situations to find some type of joy, some type of breath of fresh air, because we don't tend to get it. Even in that situation is crazy. Everything in that case showed openly that he was guilty, guilty, guilty. But until that moment of them announcing it, me and his actual blood family still all felt nervous, like there's a chance we could be stripped of it. But it turned out to be the way that it was, and that was a well-deserved, joyful moment. … That was my homeboy, for real for real. So it was a little more personal with him as far as fight-wise. I fight for everybody, but for him, it was different because we felt helpless watching him lose his life when we can't be there to do anything.
May 25, 2021, two days after the 2021 BBMAs, will mark the one-year anniversary of the death of George Floyd. What is one thing you want the world to remember about your friend and who he was as a person and one thing you want the world to remember about what happened to him and what has continued happening to Black Americans?
George had a real big heart. Man, he was all about peace, non-dramatic, non-confrontational. He was actually gentle. Any video you ever find of George, you gon' see him positive, happy, laughing. You're never really gonna see anything of the negative sort. He was one of the first few that would comfortably bring the Bible to the 'hood to teach somebody young. We all have our history, we all have our pasts. We don't deny that. But I feel that's what made him who he was. A lot of us who go through what we go through, them situations build our character to make us who we are. So I definitely want people to know he has a heart, definitely a heart like no other. And he always been supportive of me the way I've been supportive of him. And I think this situation, man. … God already had it written out how He wanted things to go. And I think He made it to where this situation was the situation to wake up the world, because it is a lot of situations going on, there's a lot of people that's not getting justice. But you got to realize when it came to this trial, everybody was tired, everybody was just like, "We steady losing left and right. They're not gonna do nothing to allow us any type of hope." And I believe God showed that it is possible, and this is just the start.
I read in a previous interview that George came up to you before you received a humanitarian award in Houston back in 2017 and said, "We're going to change the world one day."
It's a crazy situation, right? So we can go from George Floyd to DMX. With DMX, man, there's a light around you. I don't know what it is, but I just see the light always. So it's crazy for me to always come across people, even down to my brother Nipsey [Hussle], [he] was a little brother to me. So a lot of people that people really start to understand later on in life, what they were, these are all my close people, man. … I feel like maybe it's a piece of each one of them that continues to find its way inside of me, that continue to make me stronger and accomplish more things because I haven't stopped. And I don't think I'm planning on stopping no time soon.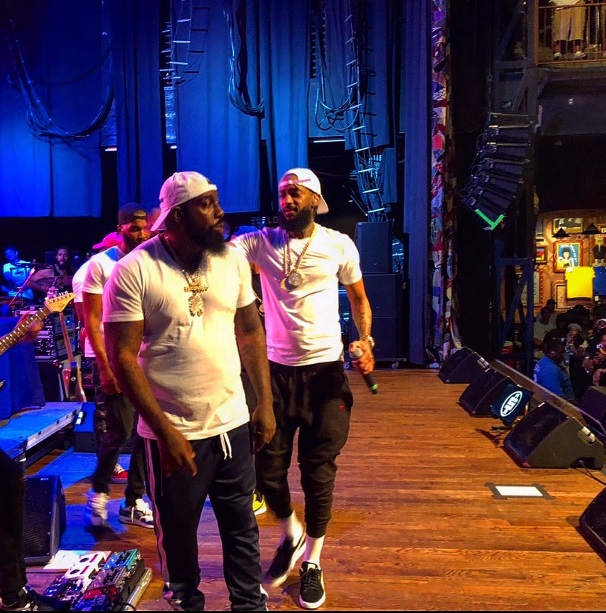 They literally loved me to death as well as I loved them to death. It's pressure, but I'm built for it. … It's so crazy people are bringing them up, and when they bring them up, they always find something within that one that's similar to me, as well as I'm similar to them. So each one of them have their own piece of me as well as I have my own piece of them. I didn't accept it at first. Me and T.I. argue all the time, we're like brothers, and he's like, "Man, what you're doing is way bigger than this music. Stop worrying about the music. What you're doing for the people is so much more." And I used to be like, "Bro, don't tell me that. You're just trying to make me stop rapping, and I'm not trying to hear that." Usher would come tell me, "Man, bro, what you're doing is inspiring." Puffy: "Man, Trae, don't stop what you doing. Nobody's doing it like you." Busta Rhymes: "Bro, we've got to give you your flowers while you're still here." … I'm still gonna do what I love to do, which is my music and everything else. But I'm a little more comfortable now to where it doesn't rub me the wrong way when people say that now. I guess it's kinda like, I don't even want to say falling into your calling, but I just accept what I'm capable of doing. I don't know what my calling is.
What qualities do you attribute to someone being known as a hometown hero?
Now that's one title I've accepted … because I know for a fact anything happening, I'm on the way. If I'm somewhere across the world and there's something happening in Houston, nine times out of 10, I'm gonna do my best to get back. And if I can't get back, I feel helpless. You could be heroes in so many different ways. At the end of the day, I just care. They need somebody to care, to feel them, to understand where they coming from, to comfort their situation as opposed to discredit their situation. They know that I'mma fight. Even if it's a battle I'm not gonna win, I think they respect that to the max because they know one thing for sure, he gave it his all for us. … And you can never gain the trust of the people not being solid. You can never gain the trust of the people not being consistent and not showing where your heart really is. The most powerful tool that I have is I'm one of the ones that the people trust. They'll be willing to walk to the end with me.
I remember I was out there, I was at DMX's funeral. And an older lady come up to me and she grabbed me, she like, "Man, I just wanted to touch you to see what you feel like." I'm looking at her like, "What the f— are you talking about?" I'm always respectful. And she was like, "Man, I watch everything you do. You are probably our only modern-day hero across the world right now. I want to see what your skin feel like." Things like that, when you see people with tears in their eyes, that's a different type of feeling. But it's also a different type of responsibility too.