Ghostface Killah has officially released his Ghostface Killahs album on streaming platforms. After originally dropping the LP exclusively through his online store, the legendary MC gives fans the opportunity to enjoy it on Spotify, TIDAL, Apple Music and other DSPs.
The Wu-Tang Clan member's latest project is a 14-track effort. Guests include Method Man, Inspectah Deck, Masta Killa, Cappadonna, Solomon Childs, Sun God, Shawn Wigs, Eamon and Harley.
Check out Ghostface's Ghostface Killahs stream below.
Ghostface Killah is back with a new album titled Ghostface Killahs. The LP is available exclusively through the Wu-Tang Clan member's online store until next Friday (September 13) when it will hit DSPs such as Spotify, Apple Music and TIDAL.
Fans can get immediate access to the project by purchasing the digital download for $15. CD ($25) and vinyl ($40) copies are also on sale along with a variety of bundle packages.
View Ghostface's Ghostface Killahs cover art and tracklist below. Purchase the album here.
Ghostface Killah began the rollout for his next album Ghostface Killahs last month. As the LP's September 6 release date gets closer, the Ironman continues his campaign by unveiling the official cover art and tracklist.
The Wallabee Champ's upcoming solo project will feature 14 tracks. Guests include fellow Wu-Tang Clan members Method Man, Inspectah Deck, Masta Killa and Cappadonna plus affiliates such as Solomon Childs and Sun God.
Check out Ghost's Ghostface Killahs cover art and tracklist below. Pre-order the album here.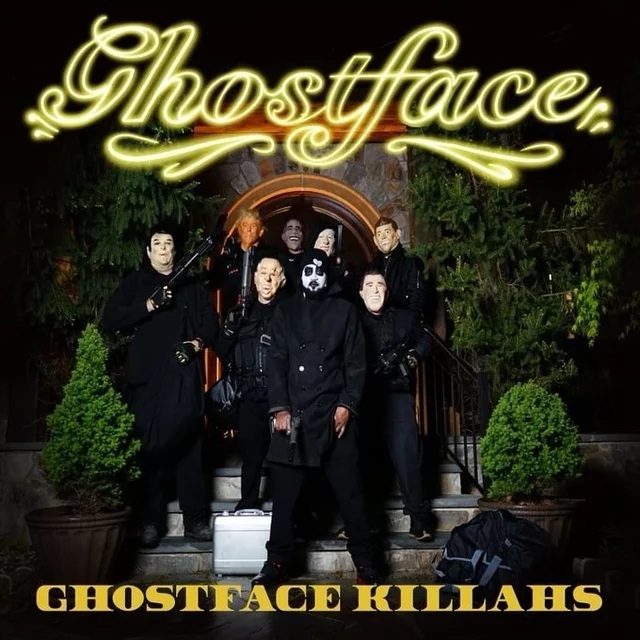 1. Killah Intro
2. Me, Denny & Darryl f. Method Man & Cappadonna
3. Burner To Burner f. Inspectah Deck & Cappadonna
4. Flex f. Harley
5. News Report (Skit)
6. Conditioning
7. Fly Everything f. Sun God & Shawn Wigs
8. Party Over Here
9. Pistol Smoke f. Solomon Childs
10. Revolution (Skit)
11. New World f. Eamon
12. Waffles & Ice Cream f. Cappadonna
13. The Chase f. Sun God
14. Soursop f. Masta Killa, Harley & Solomon Childs