Smif-N-Wessun have returned with their first album in eight years. Titled The All, the project features a handful of notable guest features, including Rick Ross, Raekwon and Rapsody.
The 12-track effort also gets an assist from Heather Victoria, Musiq SoulChild, SmittytheCAINSMITH and GQ with production courtesy of 9th Wonder and The Soul Council.
Check out out the album stream, cover art and tracklist below.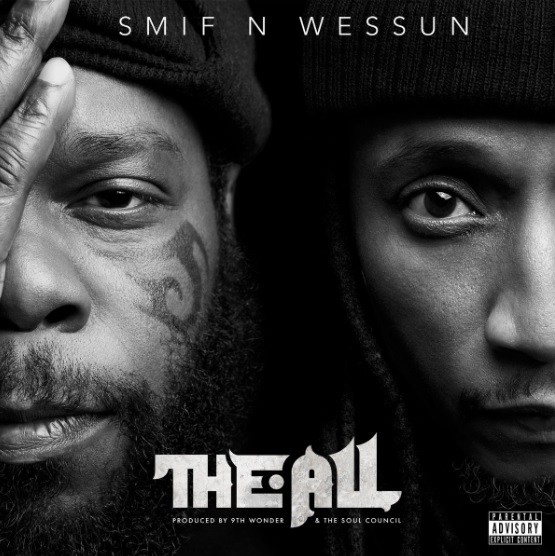 1. Intro (The Education of Smif-N-Wessun
2. Testify
3. Dreamland f. Raekwon & Heather Victoria
4. Ocean Drive f. Musiq SoulChild & Rapsody
5. Let It Go
6. Letter 4 U f. SmitytheCAINSMITH
7. Let Me Tell Ya f. Rick Ross
8. The A.L.L.
9. We Good f. GQ & Heather Victoria
10. Stahfallah
11. Illusions
12. One Time
On the heels of their NPR Tiny Desk Concert performance, tenured MCs Tek and Steele — collectively known as Smif-N-Wessun — have shared the release date for their upcoming album, The All. According to a press release, the project is expected to arrive on February 22 via Duck Down Records.
The new album will serve as the follow-up to Monumental, the duo's 2011 collaboration with Pete Rock. It boasts guest appearances from Rick Ross, Raekwon, Rapsody and Musiq SoulChild, as well as production from 9th Wonder and The Soul Council.
"9th Wonder and The Soul Council provide the perfect backdrop for Tek and I to deliver heartfelt lyrical content" Steele told Vibe. "It's a true tale of ups and downs, wins and losses, growth and acceptance. It speaks to the hearts and minds of all people; particularly our followers and fans of all ages and ethnicities."
Along with the release date announcement, Tek and Steele have dropped another video from the album, this time for "Testify."
"'Testify' is a realistic reflective look back on our accomplishments and failures throughout our career and serves as a precursor to what you will experience on The All," Steele explained. "This project is a reality check for Smif-N-Wessun, one that reflects the struggles and obstacles that we've had to endure to survive at the level we occupy in the Hip Hop arena.
"Some bestow the 'legend' tag upon us — we are very appreciative of that — and we are chronicling that journey throughout the album."
Watch the "Testify" video below.