After almost 40 years in the game, Scarface is ready to bow out. On Tuesday (May 17), the Houston rap legend announced the aptly-titled Farewell Tour, a 32-city swan song that will bring the gospel of Brad Jordan to the American people for the very last time this summer.
The nationwide trek kicks off in Oakland, California on July 8 and wraps up in Odessa, Texas on August 27, with stops in cities including Los Angeles, Seattle, Washington, D.C., New York and Dallas along the way. 'Face's set at LL COOL J's Rock The Bells Festival on August 6 falls on the 20th anniversary of his acclaimed 2002 album The Fix.
Scarface will be joined on the road by his band, Formaldehyde Funkmen, to help bring classic hits such as "My Block," "Guess Who's Back" and Geto Boys' "Mind Playing Tricks on Me" to life for the final time. Fans who sign up to his special VIP meet and greet will get to hang out and take photos with 'Face before the show, along with receiving a limited edition "Face Mob" commemorative baseball jersey.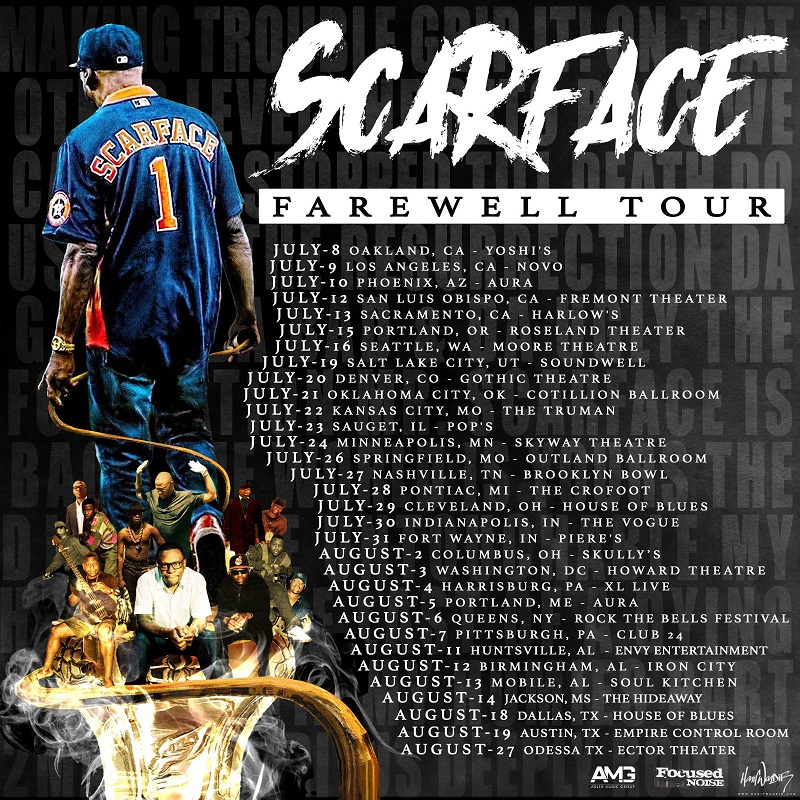 Since emerging as part of the Geto Boys in the late 1980s, Scarface has made an indelible mark on Hip Hop. A master storyteller, he helped pioneer the rise of Southern rap and provided the blueprint for rapping about mental health and internal struggles while influencing generations of MCs — from JAY-Z, Nas and The Notorious B.I.G. to UGK, Killer Mike and Isaiah Rashad.
In recent years, though, the 51-year-old's health has suffered. In 2020, he endured a brutal battle with COVID-19 that resulted in organ failure and over a year of dialysis treatment. 'Face received a kidney transplant from his son, Chris, last September and has been recovering well, but needless to say the entire process has taken its toll.
Scarface delivered what he thought was his final ever show at a sold-out House of Blues in Houston last November, but it appears he wasn't quite ready to say goodbye and wanted to take the show on the road for one last victory lap. This may not be the end of Scarface's music career just yet, though.
"I'm done with the rap," he told Houstonia magazine ahead of his aforementioned House of Blues concert. "If I could, I would love to go into a different lane of music. Maybe blues or rock. Maybe alternative. I want to do something different now."
Tickets for Scarface's Farewell Tour go on sale on Wednesday (May 18). Revisit "My Block" below.