SHEIN is putting a spin on the typical fashion show.
The shopping e-commerce company is presenting on Sunday (Sept. 26) its SHEIN x Rock the Runway show, an hybrid special event that is part concert, part choreographed dance sequence all while showing off SHEIN's top trends for fall/winter 2021 in five individual segments. Saweetie, The Chainsmokers, Darren Criss, Thuy, Willie Gomez, Riley Clemmons, Blu DeTiger and more are all set to take the stage at the star-studded event
"I love that SHEIN's goal for this event is to create a one-stop destination for fashionistas to discover up and coming creators across all aspects of the industry," Saweetie tells Billboard of the opportunity. "I love that SHEIN is opening that door for everyone by shining a light on the biggest of stars to the indie artists. I'm passionate about so many things… music, fashion, beauty, and I've been so fortunate to pursue my dreams. Music is my ultimate love and it's opened the door for all these other amazing things."
Fellow performer Darren Criss is equally excited to be included in such a unique opportunity, telling Billboard, "I really like the idea of not your typical fashion show and it being more of a celebration of dance and music and contextualizing the clothes via the music and performative elements and seeing how clothes look on all different kinds of people with different kinds of movement and music. That thinking out of the box factor of a typical fashion show was immediately appealing to me.
Courtesy of SHEIN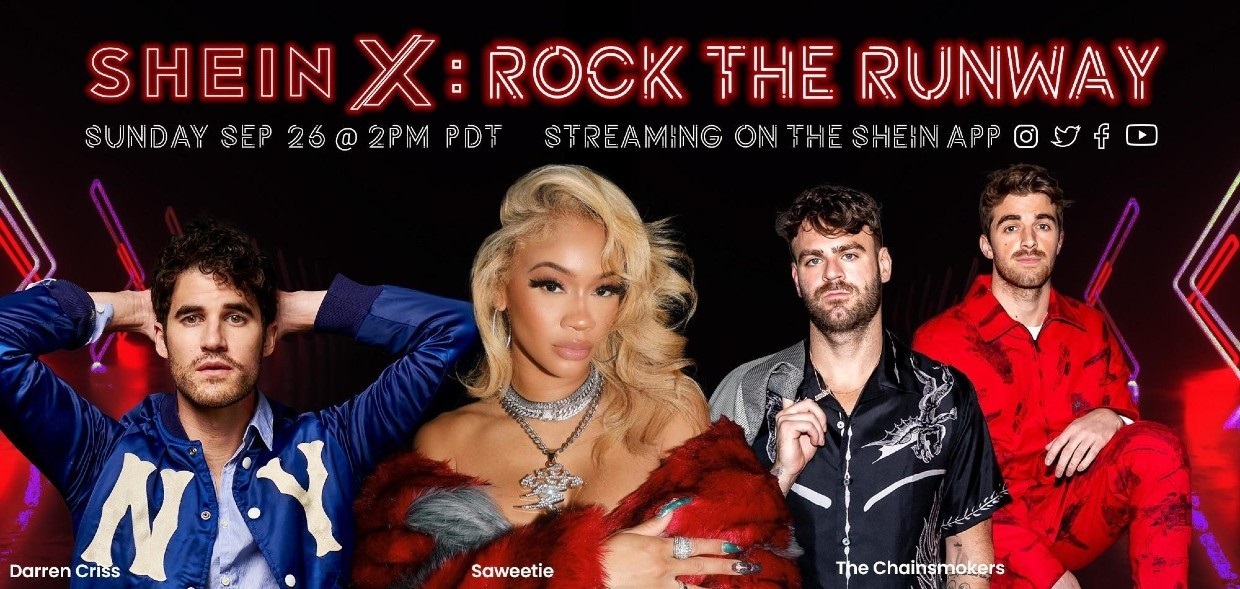 Saweetie shared that for her performance, which will showcase the Ski Party looks, fans should expect "lots of dancing" choreographed by Brya Woods and assistant choreographer Aahkilah Cornelius.
Criss is gearing up to perform his new single "For a Night Like This," which he describes as an "unapologetically celebratory jam."
"It's all about celebrating with the people you love," he adds. "It's such a vibrant song and the creativity that they were going for with this fashion show was a really great match for the song I wanted to perform. I'm happy I can showcase that vibrancy and colorfulness."
Criss, whose performance will accompany the City Sleek styles, emphasized his gratitude for SHEIN bringing his song to life with "a hundred dancers of all different backgrounds, shapes and sizes, with a variety of movement. That is something that really takes a song to the next level. It takes it from a song to a spectacle and a visually exciting experience. It's something we all hope can happen with our songs when we write them."
"Any opportunity I have to be around dancers and have dancing in my life – I'm not a dancer myself, but any time I can have that in my life, whether it's through one of my songs or walking through life, I embrace that opportunity," he continues. "The more dance, the better."
SHEIN x Rock the Runway will also help raise awareness and donations to benefit National Action Network, one of the nation's leading civil rights organizations and Youth Emerging Stronger, which helps to build futures for foster and homeless youth. SHEIN is donating $350,000 across both charities.
"While I love to use my platforms to entertain, it's just as important for me to educate and make a positive impact on the world and I love that SHEIN is acting on this by partnering with these organizations," Saweetie says of the event's charitable aspect. "I'm huge supporter of education and giving everyone access to the knowledge that will help them to grow and succeed in the world regardless of their background."
"It's obviously the bonus for anything you do," Criss agrees. "You're happy to support anything that supports others beyond the preliminary presentation of 'Here are some cool clothes, here are some amazing dancers, here's a cool song.' In the process, we're also shining a light on an organization that are doing a lot of good in the world. I always prefer that to be a component in anything I do."
Since this is a fashion show, after all, how would Saweetie and Darren Criss describe their personal style? "My style is always growing and evolving," Saweetie explains, "Because I am constantly researching and studying designers and their collections throughout the past. I love to play with fashion and take risks with my style – anything glam! I draw a lot of inspiration from the 90s and early 2000s and try to mix these retro and nostalgic elements with the feminine aesthetic of old Hollywood glamour."
"I'm a big believer in dressing for the party," Criss says. "This is a much larger idea that goes into music, that goes into how I approach everything in life, which is knowing what the venue is, honoring what the dress code is and then doing your own spin on it to be a little unique and not like everybody else. Just enough of something that is accessible so that people feel comfortable around your choice, but you're also pushing it a little bit. I like toeing that line in general. I'm not saying I'm a fashionista at all, but it depends what day of the week it is, what coffee shop I'm walking to and what part of town. All those variables have their own set of rules that I like to abide by. But I'm definitely not one type of thing and am never thoughtless, that's for sure."
Catch the SHEIN x Rock the Runway event when its streams on Sunday (Sept. 26) at 5 p.m. ET/2 p.m. PT on the SHEIN app, and the company's Instagram, Twitter, YouTube and Facebook pages. Shop the SHEIN x Rock the Runway looks here.