TORONTO, ON – Just a few weeks after the deaths of XXXTENTACION and Jimmy Wopo, another rapper has been killed in a shooting.
Toronto's Smoke Dawg was shot and killed in his hometown on Saturday (June 30) in a shooting that took the life of another man and seriously injured a woman. According to The Star, police were still working on confirming the identities of the slain men, but multiple Toronto artists have confirmed one of them was Smoke on social media.
"Smokey is gone, may our prayers follow him to heaven," fellow artist Mustafa The Poet tweeted on Saturday.
Smokey is gone, may our prayers follow him to heaven

— Mustafa (@MustafaThePoet) July 1, 2018
CP24 reports the shooting occurred in Toronto's Entertainment District. Shots were fired outside Cube Nightclub, with bullets striking two men and one woman. All three were taken to a local trauma center where the men succumbed to their injuries.
Smoke first gained wider recognition in 2015 for his collaboration "Still" with Mo-G. The song racked up 2.4 million views on YouTube and 1.37 million streams on SoundCloud. More recently, his track "Trap" House earned 3.4 million views on YouTube and sparked a remix featuring French Montana.
Drake was among those mourning the loss of Smoke, sharing some thoughts on his death in an Instagram post.
"All these gifts and inner lights being extinguished lately is devastating," he wrote. "I wish peace would wash over our city. So much talent and so many stories we never get to see play out. Rest up Smoke."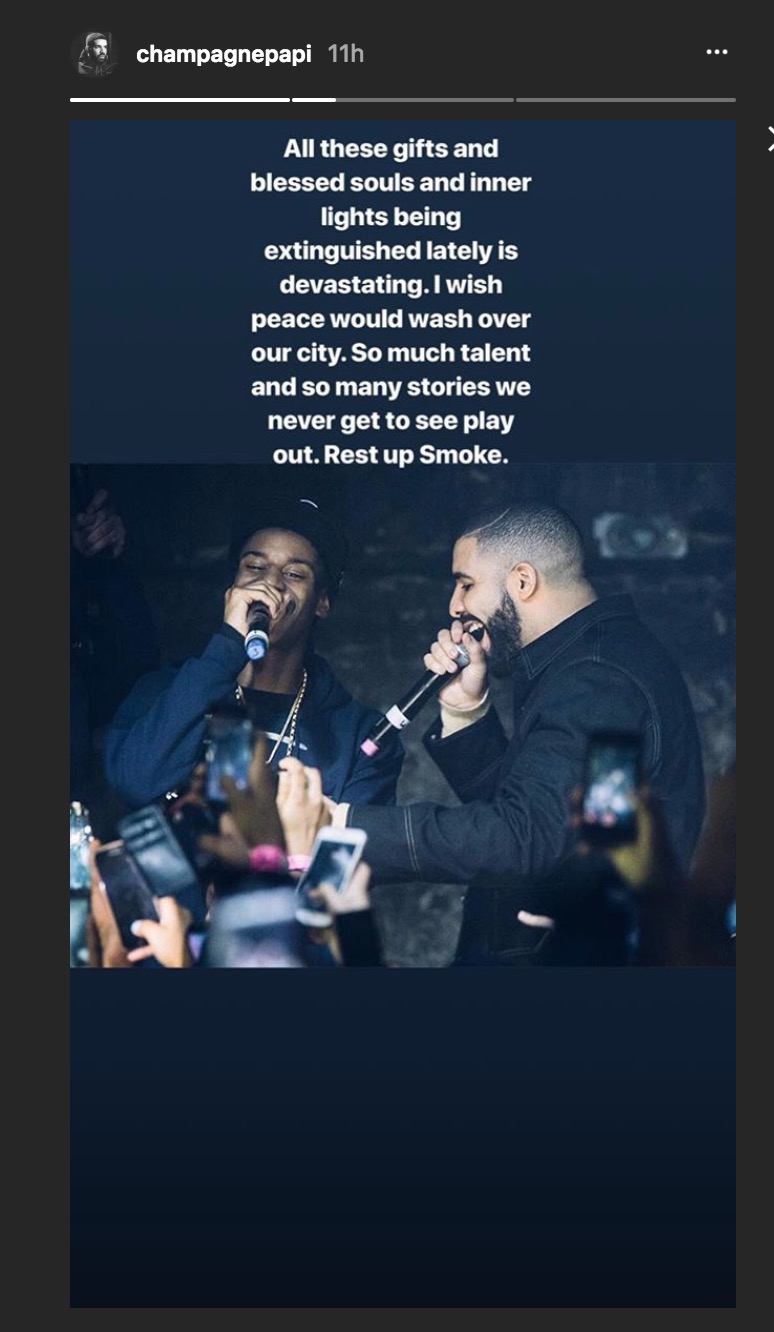 HipHopDX expresses our condolences to the family and friends of Smoke Dawg at this difficult time.
View more reactions to his death below.
RIP My Brothers Smoke Dawg & Koba.. Love You Guys 4 Life.. Rest Easy 💔💔💔💔💔

— MURDA ON THE BEAT (@murdabeatz_) July 1, 2018
Just found out about Smoke Dawg… don't even know what to say

— Nineteen85 (@Nineteen85) July 1, 2018
Rip Smoke Dawg 🙏🏼 always real energy when we linked… Our city need to do better!! ! Shit is getting out of control

— KILLY ☠️ (@hoodhokage) July 1, 2018