Quality Control Music has dropped its new compilation Control The Streets Volume 2. The project provides plenty of material with a total of 36 songs.
Members of the Quality Control roster such as Migos, City Girls and Lil Baby make contributions alongside a long list of high profile guests. Travis Scott, Megan Thee Stallion, Meek Mill and Gucci Mane are among the notable artists featured from outside the label.
Check out the Control The Streets Volume 2 stream, cover art and tracklist below.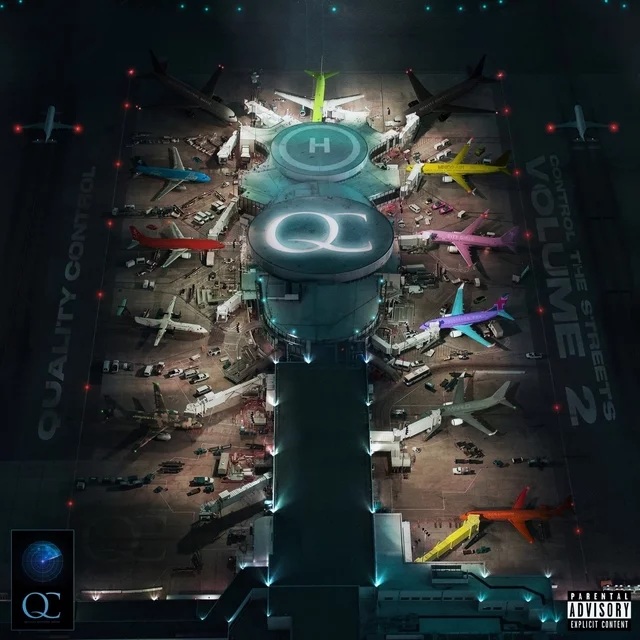 1. Intro – Migos & Lil Yachty f. Gucci Mane
2. Once Again – Lil Yachty f. Tee Grizzley
3. Baby – Lil Baby & DaBaby
4. What It Is – Offset
5. Frosted Flakes – Migos
6. Pastor – Quavo & City Girls f. Megan Thee Stallion
7. I Suppose – Takeoff
8. Back On – Lil Baby
9. Pink Toes – Offset & DaBaby f. Gunna
10. Dead Man Walking – Lil Yachty
11. 100 Racks – Offset f. Playboi Carti
12. Double Trouble – Quavo f. Meek Mill
13. Bless Em – Takeoff f. Travis Scott
14. Like That – City Girls & Stefflon Don f. Renni Rucci & Mustard
15. Big Rocks – Offset f. Young Thug
16. Virgil – Quavo
17. Magellanic – Takeoff
18. Leave Em Alone – Layton Greene & Lil Baby f. City Girls & PnB Rock
19. Ride – Lil Baby f. Rylo Rodriguez & 24Heavy
20. Wiggle It French Montana f. City Girls
21. Stripper Bowl – Migos
22. Come On – City Girls & Saweetie f. DJ Durel
23. Soakin Wet – Marlo & Offset f. City Girls
24. Longtime – 24Heavy f. Young Thug
25. Yeh – Duke Deuce
26. Menace f. Migos & Lil Yachty
27. Big Bag – Marlo
28. Grab a… – Duke Deuce f. Tay Keith
29. Killin' Time – Lil Yachty f. Offset & Mango Foo
30. Bait – Kollision
31. Shoulder – DAYYTONA FOX & YRN Lingo
32. Testament – Jordan Hollywood
33. Get Em In – Mango Foo & Offset
34. Murda – Domingo & Duke Deuce
35. Ain't Nuthin – Street Bud
36. Hit – YRN Murk
Quality Control Music has shared the jam-packed tracklist for its Control The Streets Volume 2 compilation, which is scheduled to drop this Friday (August 16).
The label's upcoming project is loaded with some of the biggest names in Hip Hop today. Contributors include Travis Scott, Megan Thee Stallion, Migos, Meek Mill, City Girls, Gucci Mane, DaBaby, French Montana, Lil Baby, Playboi Carti and many more.
In total, the compilation features a whopping 36 songs.
Check out QC's Control The Streets Volume 2 tracklist below.
Quality Control Music is scheduled to release a new compilation this summer. The label has announced its Control The Streets Volume 2 album will drop August 16.
"AUGUST 16th CONTROL THE STREETS VOLUME 2," QC revealed Tuesday (July 16) via Instagram.
Control The Streets Volume 1 was released through Quality Control, Motown Records and Capitol Records in 2017. The project featured 30 songs, including the Migos single "Too Hotty."
The first Control The Streets project featured contributions by members of the label's roster such as Quavo, Offset, Takeoff, City Girls, Lil Baby and Lil Yachty. The album also included guest appearances by Cardi B, Young Thug, Nicki Minaj, Gucci Mane and Kodak Black, among others.
Fans will get their first preview of Control The Streets Volume 2 at midnight when QC drops the City Girls and Saweetie collaboration "Come On" featuring DJ Durel. The label is also releasing another single, but details about it haven't been revealed yet.