New York, NY – After several weeks of teasing the project, Post Malone has finally revealed the title and release date of his forthcoming album. According to an Instagram post from his manager Dre London, Post's follow-up to 2018's beerbongs & bentleys is called Hollywood's Burning.
"post malone announced that his next album will be dropping friday, september 6th!" the post reads.
In the caption, Dre expressed how difficult it's been to keep the news quiet.
"It's been hard trying to keep this info away from the world especially when it's gonna be the best birthday present ever!" he wrote. "let's all celebrate together. Album Is Called 'Hollywood's Bleeding' & is fire."
As for the man himself, the platinum-selling artist issued two simple tweets that said, "sept 6 :))" and "Hollywood's Bleeding."
sept 6:))

— Posty (@PostMalone) 26 августа 2019 г.
Hollywood's Bleeding

— Posty (@PostMalone) 26 августа 2019 г.
Post recently teamed up with Bud Light to create his own custom beer cans. The 16 oz. special-edition can design reimagines Bud Light's iconic crest with Post's face front and center and includes his autograph.
The design also draws inspiration from several of Post's tattoos, including barbwire, swords and medieval dragons while paying tribute to his Texas roots with the state outline and steer skeleton. They are expected to arrive in select stores this fall.
Check it out below.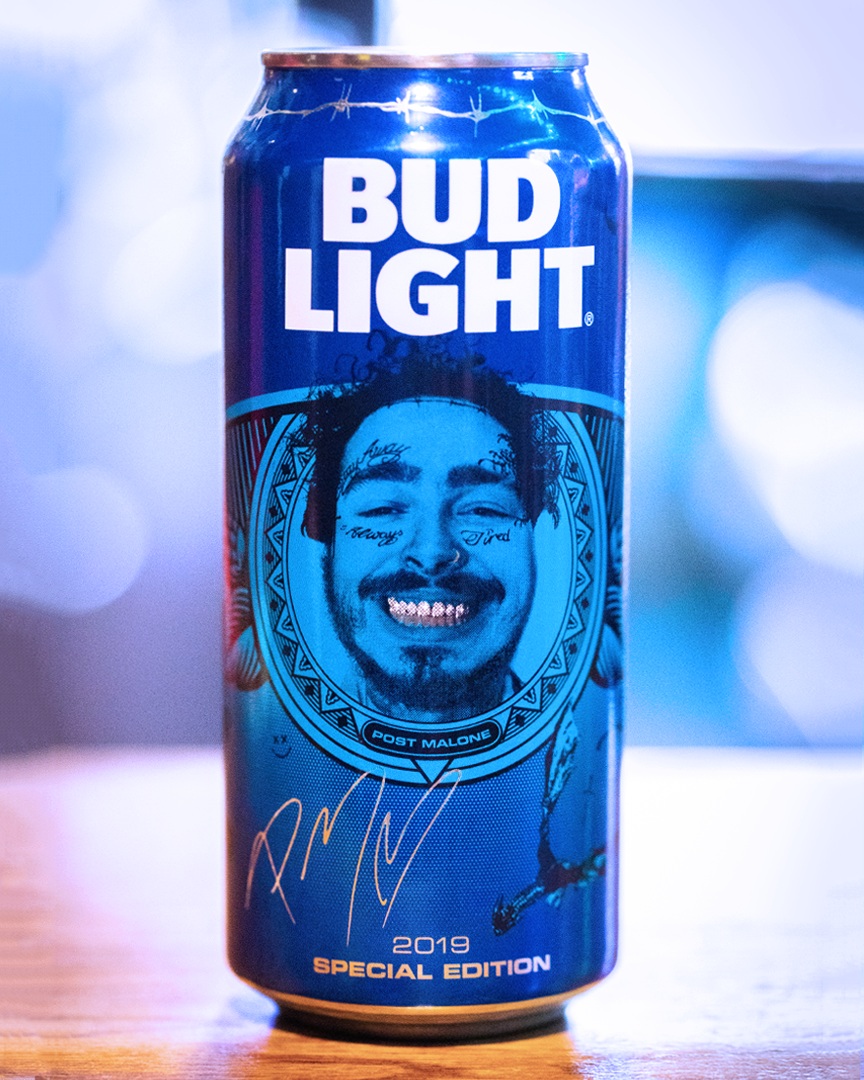 Post Malone shed a little more light on his beerbongs & bentleys follow-up during a special Bud Light-sponsored show at The Cutting Room in New York City on Monday night (August 4).
According to video posted on Bud Light's official Twitter account, the album will arrive this fall.
"My third album will be coming out in September," Post says in the clip. "I think you guys are gonna like it very, very, very much."
IT'S HAPPENING. New @postmalone album coming in September #DiveBarTour pic.twitter.com/U0cNBttyIm

— Bud Light (@budlight) 6 августа 2019 г.
Post mentioned the album is finished during his set at the Wyoming's Cheyenne Frontiers Days festival last month.
beerbongs & bentleys topped the Billboard 200 chart when it dropped in April 2018. Since then, it hasn't budged from the Top 10 or Top 20. This week, the project landed in the No. 14 spot, marking its 66th week on the chart.
Post Malone took the Billboard 200 chart by storm when he dropped his sophomore album, beerbongs & bentleys, last year.
The Grammy Award-nominated project debuted at No. 1 upon its release, selling approximately 461,000 total album equivalent units in its first week. Since then, it's landed in either the Top 10 or Top 20 over the last 63 weeks.
During a performance at Wyoming's Cheyenne Frontiers Days festival on Thursday night (July 25), the Stoney artist announced his beerbongs & bentleys follow-up is on the way.
"I've got some pretty awesome news, and the reason my voice is kinda fucked is because I was in the studio for the last three days and we just finished up the new album," he said to the sea of people in the crowd. "I think it's gonna be pretty goddamn out of sight."
If Posty's recent chart performance is any indication of what to expect from the album, it should easily pacify his fans.
The 24-year-old Texas native currently has three tracks in the Top 15 of this week's Hot 100 with "Goodbyes" (No. 7) featuring Young Thug, "Sunflower" (No. 9), and "Wow" (No. 14). The accompanying video for "Goodbyes" arrived earlier this month and has already racked up over 11 million YouTube views.
Check it out below.