Los Angeles, CA – Even without Maury Povich's help, a paternity test was able to confirm Flavor Flav is the father of a 3-month-old boy named Jordan.
The test results arrived on October 21 courtesy of LabCorp and showed the Public Enemy vet is 99.9 percent confirmed. A paternity suit was filed with the Los Angeles County courts earlier this month by mother Kate Gammell after Flav refused to acknowledge the child as his.
Gammell will seek child support from the Flavor Of Love star. The two met when Gammell was working as Flav's manager.
Flav has seven additional children who range in age from three months to early 30s.
Flavor Flav has been named in a paternity suit filed by Kate Gammell, a Los Angeles-based woman who used to work for the Public Enemy legend.
According to legal documents filed in Los Angeles County Courts, Gammell says Flav is the father of her two-month-old son Jordan. Gammell wants the court to establish paternity so The Flavor Of Love star is forced to pay child support for the new baby.
Flav already has seven other children, making Jordan the eighth. They range in ages between two months and early 30s.
Gammell worked as Flav's manager for the past few years, juggling all aspects of his career, including his merchandise store and appearances. They initially met when Gammell was working as an assistant for Chuck D.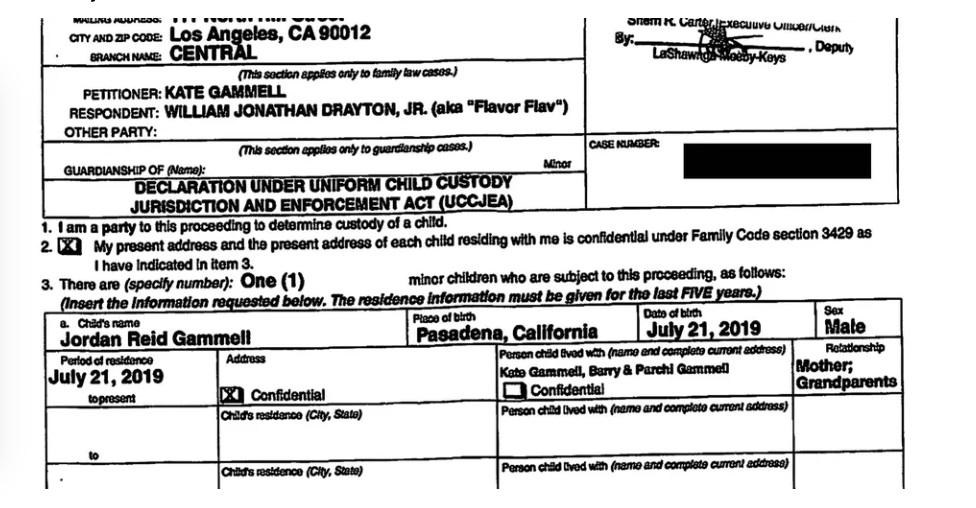 Jordan was born on July 21 in Pasadena, California. Sources tell HipHopDX Flav denies he's the father and has cut off all communication with Gammell, but he's already been served with the court documents.