Megan Thee Stallion becomes the second musician ever to star on the cover of Sports Illustrated Swimsuit after Beyoncé's groundbreaking cover in 2007.
The 2021 issue of the magazine, which launched online on Monday (July 19), also features pop and R&B singer Tinashe and Latin pop star Anitta in its pages. The "Savage" rapper is one of three cover stars this year, aside from the No. 1 ranked female tennis player Naomi Osaka and model-actress Leyna Bloom, the first transgender cover model in the 58 installments of SI Swimsuit and the first trans person of color featured in the magazine.
"REAL SPORTS ILLUSTRATED SWIMSUIT EDITION COVER MODEL S—!!! Thee first female rapper on the cover of @si_swimsuit," Megan captioned the cover shot on her Instagram Monday. "I want to thank all the strong women in my life who inspired me to love my body and live my best hot girl life. It means the world to me to be on this cover DREAM COME TRUE!!"
SI Swimsuit Editor-in-Chief MJ Day tells Billboard that picking Megan as one of the cover stars is in line with the brand's mission to champion women and their powerful voices and multidimensional identities.
"In terms of the whole package of Megan Thee Stallion, it's not just Meg the rapper. It's not just Meg the advocate. It's not just Meg the academic," says Day. "She's so passionate, she's so professional, she's so driven, and she's so kind and wonderful and empowering and uplifting … She is so symbolic of everything I hope other woman can tap into for themselves. I don't think the world has given her the respect that she deserves for all of the progress she has helped make, and has helped liberate women with, and that's very synonymous with how I feel like this brand is also of service to people."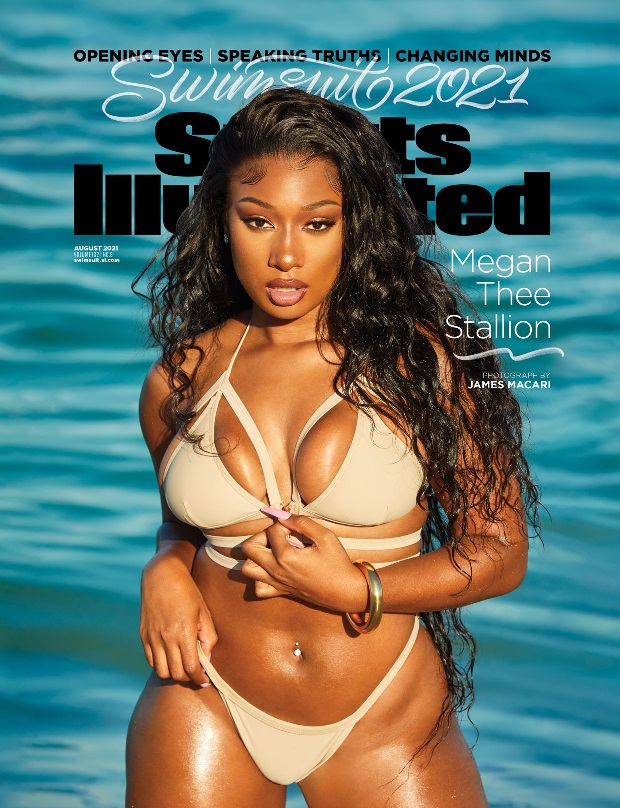 Megan, Tinashe and Anitta will take the stage and perform at the official launch event for the 2021 issue on July 23 and 24 at the Seminole Hard Rock Hotel & Casino in Hollywood, Fla. SI Swimsuit partnered with Hard Rock International for the two-day series of festivities, including interactive daytime events and a red carpet before the blowout concert at Hard Rock Live.
While performances have been long been a tradition of an SI Swimsuit launch, Day says this marks the first time they've had an all-female lineup with every single performer also being prominently featured in the magazine. The 2012 issue showcased 17 emerging indie, rock and electronic musicians in its editorial pages and online model spotlight videos, which coincided with the first-ever Sports Illustrated Swimsuit Beauties & Beats two-day music festival in Las Vegas. Ten of the 17 acts spotlighted in the magazine also performed at the festival. In 2015, SI Swimsuit hosted a two-day Swimville Fan Festival in Nashville with a concert headlined by Kings of Leon and featured several local musicians, while a four-page spread in the 2015 issue was dedicated to Nashville's musicians, restaurants, fashion leaders and sports teams.
"This is a big, monumental moment," she adds.
SI Swimsuit also worked with Roc Nation, where all three artists have direct and indirect management ties, to book the talent featured in its pages. Megan signed a management deal with Jay-Z's company back in September 2019, and two months later, Tinashe was also under the artist roster. Anitta signed a worldwide management deal with Brandon Silverstein's S10 Entertainment, which is a partner of Roc Nation, in August 2019.
"We have an incredible relationship with Roc Nation," says Day. "They were the one that when we spoke to them were as excited as us about this possibility. So it was a no brainer to work with their artists. They're just a powerhouse. … Meg, Anitta, Tinashe? They are bosses. All of them have approached their work while simultaneously pushing important conversations forward, involving those conversations in the music that they create, taking their talents and their platforms, and wrapping that up with conversations that ultimately cause people to stop, think and hopefully affect positive change on the world."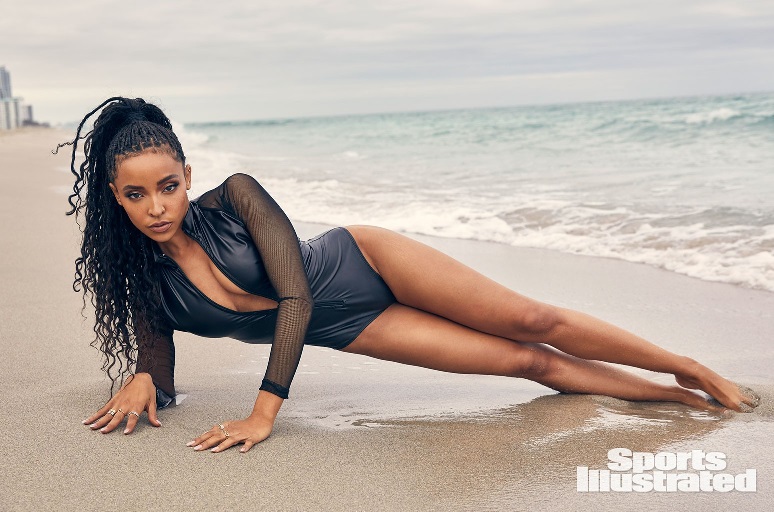 When the annual Swimsuit edition of the sports magazine featured Beyoncé on its highly coveted cover shot, she wasn't the only musician featured in the 2007 issue. Dubbed "The Music Issue," Kanye West, Gnarls Barkley, Aerosmith, Kenny Chesney and Panic! At the Disco posed next to models throughout the spread. An entire feature was dedicated to Jimmy Buffett and his beloved 005-JBS Jimmy Buffett-Shellback signature edition guitar that was eventually auctioned off to two New Orleans-based music charities — but not before 20 models in the 2007 issue signed and posed with it. He also filmed his "Getting the Picture" music video alongside model Brooklyn Decker in St. Barts to go along with the issue, which contained a free iTunes download code for the video.
The code also gave readers access to view a model spotlight video of Beyoncé doing her cover photo shoot, where she premiered two songs — "Beautiful Liar," featuring Shakira, and "World Wide Woman" — from the deluxe release of her 2006 sophomore album B'Day. "Liar" was promoted to top 40, urban and rhythmic radio within days of the SI Swimsuit issue's Feb. 14, 2007 release date, and the song eventually leapt to No. 3 on the Billboard Hot 100 and earned a Grammy Award for best pop collaboration with vocals.
Beyoncé, who was also the first non-model non-athlete to appear on the cover of SI Swimsuit, also took the opportunity to promote her own swimsuit line she had launched under her and her mother Tina Knowles-Lawson's House of Deréon clothing brand. In similar fashion, Day recalls Meg made sure to pull pieces from Fashion Nova, where the 26-year-old rapper has her own collection, as well as high fashion and custom items during her cover shoot to have the "full gamut of brands" on display.
"They're their own brands," Day says of the artists featured on SI Swimsuit. "We wanted [Megan] to be the one that felt her most beautiful and her most confident and her most hot girl. [Laughs] I love that she wanted to show a range of who she was and how she can be celebrated."
While it's commonplace for the models featured in SI Swimsuit to leverage more bookings following their stint in the annual issue, musicians can also capitalize on the opportunity to promote their upcoming music, fashion brands and more. The 2012 digital issue of the magazine featured new or previously unreleased tracks by the 17 indie acts on its pages. Beyoncé teased what ended up becoming a Grammy-nominated Latin-pop crossover hit in her online behind-the-scenes video. Tinashe is currently gearing up fans for the release of her album 333, which she's supporting with a tour that she recently announced and is already selling out tickets. And Anitta's "Girl From Rio" single has been getting steady rotation at top 40 and rhythmic radio, further helping to ensure the Brazilian superstar's long overdue breakout in the United States, with special thanks to DaBaby for his guest verse on the remix.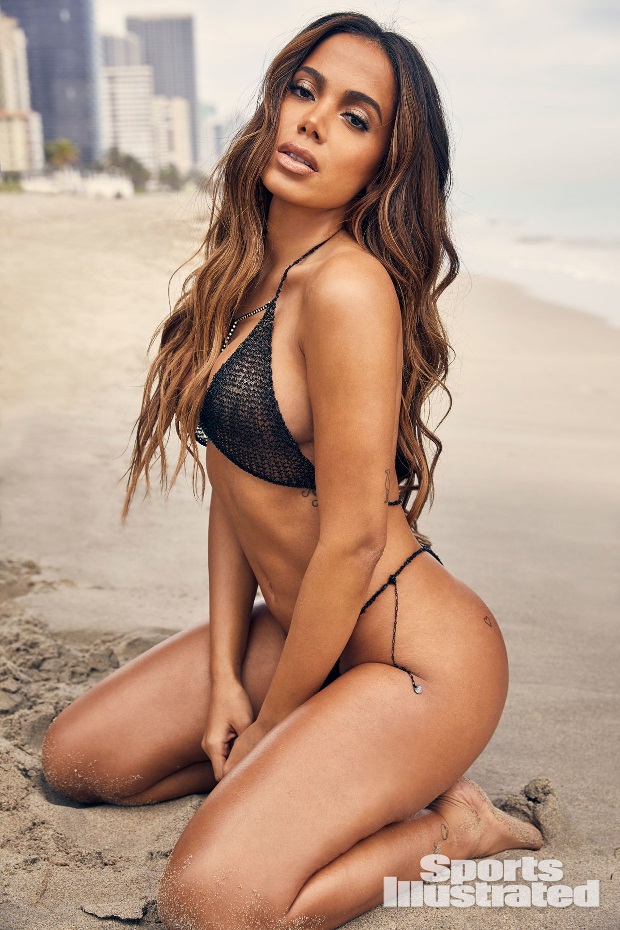 But for Latin artists such as Anitta, being featured in SI Swimsuit can not only make their reach more global, but can also make their brand more relatable, says Isabel Paz, publicity and promotions associate director at Warner Music Latina. Paz works with artists including Anitta, Justin Quiles and Sofia Reyes. [Warner Records worked with the global Warner Music Latin team to sign the "Girl From Rio" singer last June ahead of her U.S. debut album due this year.]
"I think Sports Illustrated is such a big brand that it definitely has a global reach. We don't have Sports Illustrated in our market, like a Spanish version," Paz tells Billboard, adding that print coverage exposes fans to a multidimensional view of their favorite singers. "It also shows another side of the artist that perhaps we wouldn't see if they wouldn't have been featured there. If you see them in a sports-related magazine, then you're able to discover that this artist also has that interest. I think it just makes them more well-rounded and perhaps shows a side that is not just them on stage, but it also lets you know that the artist is capable of doing something else. It humanizes them a bit, because you can relate to them further."
While SI Swimsuit works to "redefine the cultural conversation around beauty by celebrating a diverse group of women," according to the publication's statement during the annual Miami runway show earlier in July, Paz believes it has the power to celebrate "the whole variety" of Latina artists. The question remains if SI Swimsuit will continue to break grounds with whom the magazine wants to feature on the cover and in its pages in the coming years, and how many of those models will come from the music industry.
"We need to bring back modern-day Lilith Fair," says Day. "We need a place where female artists from all genres can come together from all places in their career. And how great would it be to be behind that and to work with something of that nature when it's about the music, but it's also about the message? I would absolutely want our brand to be part of something like that."