Kanye West and Kid Cudi's stage design at the 2018 Camp Flog Gnaw Carnival is facing scrutiny from Lorde. The platinum-selling singer has accused Yeezy and Cudi of ripping off her work, highlighting the similarities between the design used by the duo on Sunday (November 11) and her past sets.
Lorde made the accusation in a series of posts on Instagram Stories. She shared photos of Kanye and Cudi's Camp Flog Gnaw stage alongside images from a March 2018 tour date and her performance at the 2017 Coachella Festival.
"I'm proud of the work I do and it's flattering when other artists feel inspired by it, to the extent that they choose to try it on themselves," she wrote. "But don't steal — not from women or anyone else — not in 2018 or ever."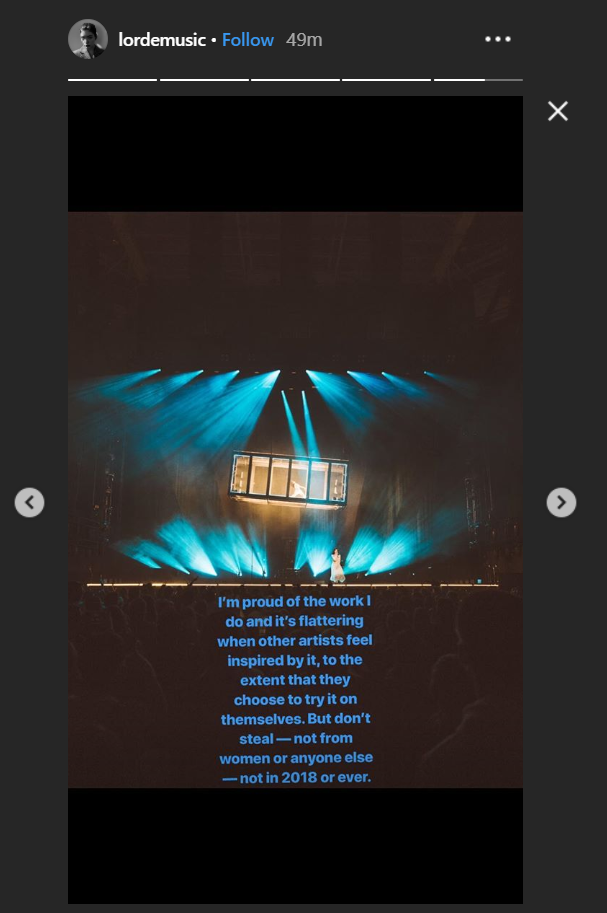 New Instagram story of Lorde acknowledging Kanye's fishtank stage design! pic.twitter.com/lhGFQBvlEc

— Lorde Daily (@LordeDaily) 12 ноября 2018 г.
Lorde's stage was designed by Es Devlin, who also works with Kanye. Devlin was behind the aforementioned Coachella set, but the designer has been collaborating with Yeezy for years prior to her work with Lorde.
Devlin's site showcases some of her past creations for Kanye, which include stage designs that date back to his Glow In The Dark Tour from 2008.
View the design in question below.