Killer Mike has long advocated against the use of rap lyrics in court, but that won't be the case in Young Thug's YSL RICO trial.
According to Billboard, Judge Ural Glanville ruled on Thursday (November 9) that lyrics will be allowed to be used as evidence against Thug and his co-defendants in the high-profile case.
The Run The Jewels rapper reacted to the ruling on his Instagram Story, where he implored fans to read the 2019 book Rap On Trial: Race, Lyrics, and Guilt in America.
"This decision scares me," wrote Mike, who is named on Young Thug's witness list alongside the likes of T.I. and Lyor Cohen. "This threatens all Americans' 1st Amendment rights in my opinion. Please read #RapOnTrial."
Find his post below.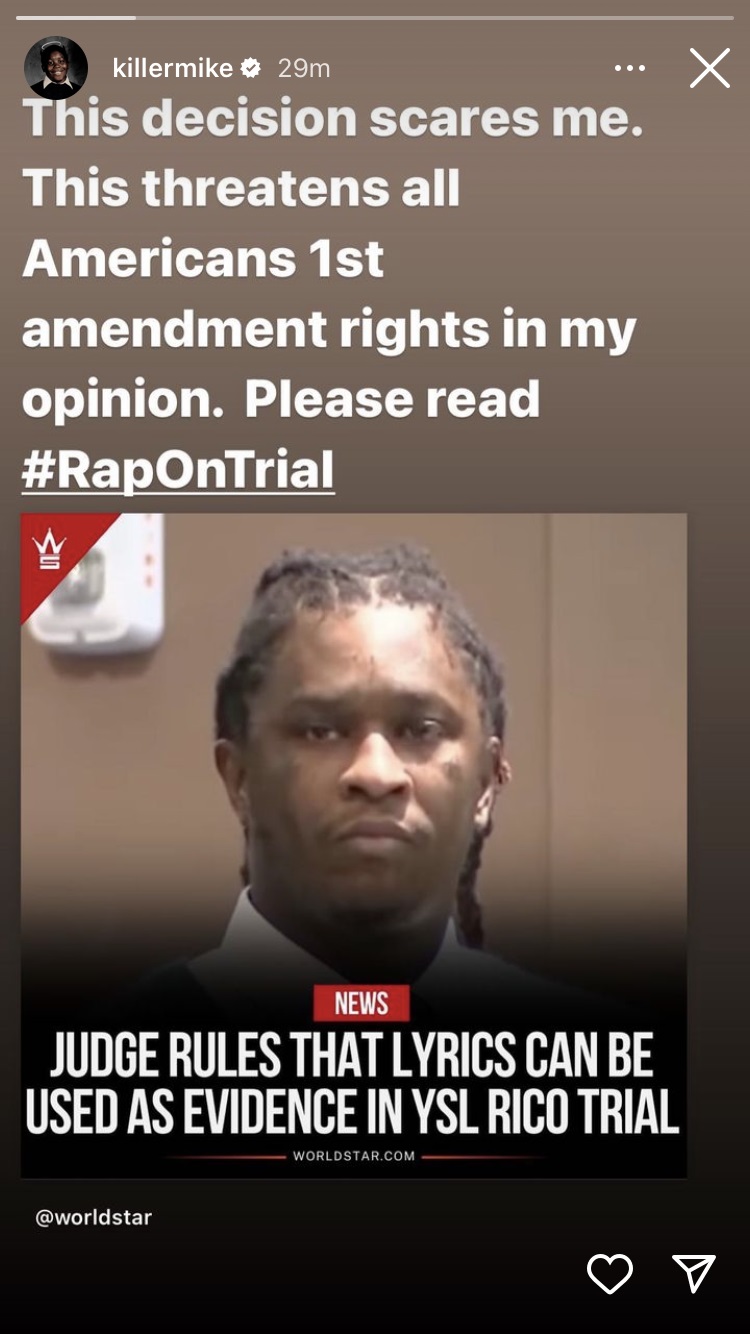 The controversial ruling comes just a day after Judge Ural Glanville hosted a contested court hearing, where he listened to arguments from both sides regarding the use of lyrics in the courtroom.
"They are targeting the right to free speech, and that's wrong," Young Thug's attorney Brian Steel said. "They are saying that just because he his singing about it, he is now part of a crime."
However, Judge Glanville wasn't receptive to the defense's arguments.
"They're not prosecuting your clients because of the songs they wrote," he responded. "They're using the songs to prove other things your clients may have been involved in. I don't think it's an attack on free speech."
The judge then ruled against Thugga's legal team's motion to ban lyrics from being used as potential evidence in the courtroom. The prosecution's indictment cites several songs of Thug's that they say connect him to various crimes.
"A person in America can say, 'I hate Brian Steel, I hate criminal defense lawyers, I hate prosecutors, I hate judges,'" Steel continued. "We believe that we flourish when we can share ideas even when they're repugnant, even when you don't agree with them. If you allow this evidence, it's going to have a chilling effect."
Glanville interrupted him to say that: "The First Amendment is not on trial."
A full jury was finally seated in the YSL RICO trial last week, almost a year after the jury selection process began. It comprises of seven Black women, two white women, two Black men and one white man.
The trial will finally begin on November 27. Young Thug has been behind bars since being arrested in May 2022 having been denied bond multiple times.