"Y"Yeezy in the house and we just got appraised." Kanye West's Nike Air Yeezy 1 prototypes have sold for $1.8 million in a world record-setting private sale by Sotheby's.
Sotheby's announced on Monday (April 26) that sneaker investing platform RARES acquired West's Nike Air Yeezy sneakers — which he debuted at the 2008 Grammy Awards while performing "Hey Mama" and "Stronger" — in a private sale.
West, Nike creative director Mark Smith and Nike innovator Tiffany Beers designed the high-top black leather kicks at Nike's "Innovation Kitchen" lab in the company's Beaverton, Ore., headquarters. The shoes were officially released as the first edition of the rapper's Nike Air Yeezy sneakers in 2009. After releasing the Nike Air Yeezy II shoes in 2012, West officially left Nike a year later after he claimed the sportswear giant refused to pay him royalties, and went on to debut his Yeezy sneaker and apparel collection under Nike's competitor Adidas in February 2015.
Ryan Chang, renowned sneaker collector and @applied.arts.nyc curator, offered the shoes for the auction. "I loved having this pair in my collection, and have always admired its significance as a cultural artifact," he said in a press release. "I'm so grateful that this iconic piece is going into good hands courtesy of Sotheby's."
The sale shatters the world record for highest publicly recorded price for a pair of sneakers by almost three times; legendary basketball player Michael Jordan's autographed Nike Air Jordan 1 sneakers sold for $560,000 at an online Sotheby's auction on May 17, 2020. West was right when he rapped in "Facts (Charlie Heat Version)," "Yeezy, Yeezy, Yeezy just jumped over Jumpman, ah!"
Ahead of Sotheby's private sale and public viewing at the Hong Kong Convention and Exhibition Centre earlier in April, the auction house wrote Nike originally sold the 2008 sample sneakers in a charity auction benefiting the Doernbecher Children's Hospital.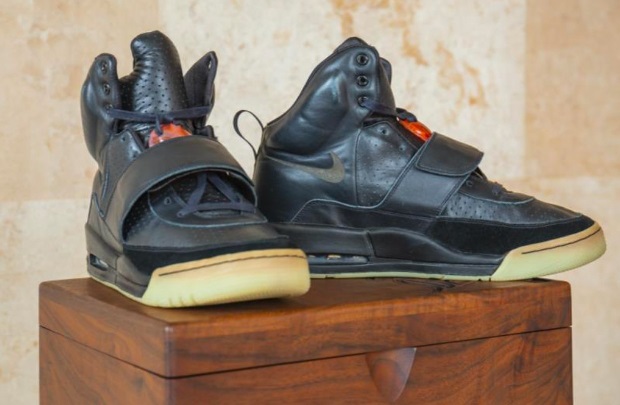 Nike Air Yeezy 1 Prototypes
With 'Ye's sneaker empire boosting his billionaire status, it continues setting records with the Nike Air Yeezy 1 prototypes also becoming the first sneakers to top $1 million.
"We are thrilled with the result, which has nearly tripled the highest price on record. The sale speaks volumes of Kanye's legacy as one of the most influential clothing and sneaker designers of our time, and of the Yeezy franchise he has built which has become an industry titan," Brahm Wachter, Sotheby's head of streetwear & modern collectables, said in the release. "Furthermore, it builds on the recent growth in Sotheby's sneakers, which is now offered across our Buy-Now marketplace, auction, and private sales."
The public can purchase a small share in the Nike Air Yeezy 1 prototypes starting on June 16, 2021, according to RARES website, where interested parties can begin reserving their spots.