Kanye West spent the majority of Sunday morning (March 13) posting Instagram videos and photos berating comedian D.L. Hughley, condemning his ex-wife Kim Kardashian over custody of their four children and accusing her new boyfriend Pete Davidson of bragging about sleeping with the reality television star.
At one point, Saturday Night Live guest writer Dave Sirus reportedly leaked a text exchange between the Ye and the 28-year-old comedian in which Davidson said he was "in bed" with Kardashian.
Now, Kanye wants Sirus' address. Sharing a screenshot of Sirus' Instagram, he text an unidentified person, "What's this guy's address?" The person answered, "I believe his real name is David Pollack not Sirus, originally from Atlantic City. Brooklyn! He lived in apartments his whole life with others!"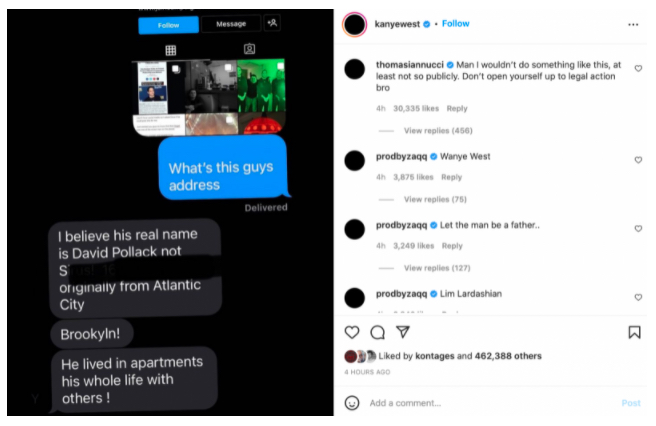 The text exchange between Kanye West and Pete Davidson was proof Kardashian's latest beau isn't going to stand for Ye's verbal abuse anymore.
"Yo it's Skete," he wrote, referring to Ye's nickname for him. "Can you please take a second and calm down? It's 8am and it don't gotta be like this. Kim is literally the best mother I've ever met. What she does for those kids is amazing and you are so fucking lucky that she's your kids' mom. I've decided I'm not going to let you treat us this way anymore and I'm done being quiet. Grow the fuck up."
Ye wrote back, "Oh you using profanity? Where are you right now," to which Davidson answered matter-of-factly, "In bed with your wife." He then uploaded a shirtless photo of himself laying down in bed, sticking his tongue out and throwing a peace sign at the camera.
Davidson asked for a private meeting at the Beverly Hills Hotel, but Ye insisted they meet up at Sunday Service, something Davidson wasn't willing to do.
"What you are going to your family is dangerous and going to scar them for life," he said. "Please handle these matters privately bro. I beg you … This isn't public dude. I'm not here for pictures and press, which is obviously all you care about. My offer stands. I wish you'd man up for once in your life."
In a follow-up video, Kanye claimed people just "want to see somebody meltdown" and explained why he feels he's been "diminished" as a father. Watch the clip below.