Justin Bieber had a critique for Eminem after revisiting "The Ringer" from the Detroit-bred rap god's 2018 effort, Kamikaze. For those living under a rock, Em blasted younger rappers such as Lil Pump and Lil Xan throughout the song.
Biebs took to Instagram on Wednesday (May 1) to throw in his two cents.
"I just like Ems flow but don't like that he's dissing new rappers. I like the new generation of rap he just doesn't understand it."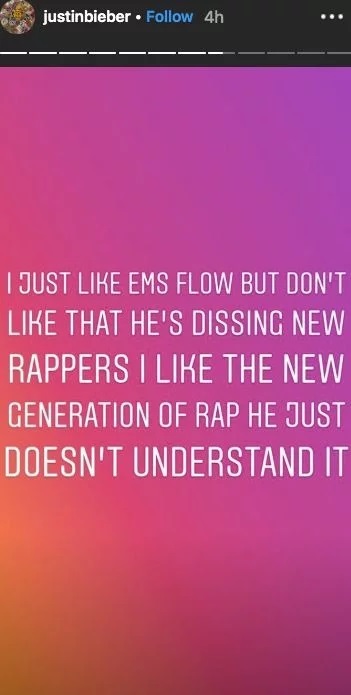 Shortly before sharing his sentiments, Biebs took a screenshot of his iTunes, which showed he was listening to "The Ringer."
Of course, Em's ninth studio album caused plenty of controversy following its release last August. Not only did he diss a laundry list of artists, he also upset those in the LGBTQ community for calling Tyler The Creator a homophobic slur on the track "Fall."
During Slim Shady's sit-down interview with Sway Calloway last September, he explained he was simply in his feelings when he said it.
I was angry when I said that shit about Tyler," he explained. "The fact of like every time I saw this kid, he was always cool to you. I loved his energy. He was a funny dude and he's super charismatic and shit. But I'm sitting back like, 'Man at what point do I have to say something to defend myself?
"The word I called him on that song was one of things that I felt like, 'This might be too far.' In my quest to hurt him, I realize I was hurting a lot of other people by saying it. At the time, I was so mad it was like whatever. It was one of the things that I kept going back to and saying, 'I don't feel right with this.'"