Producer Nick Mira went on a Twitter tirade on Saturday (November 17), taking aim at British rock icon Sting. He was upset The Police frontman allegedly threatened a lawsuit over Juice WRLD's song "Lucid Dreams," which Mira produced.
The Goodbye & Good Riddance track uses snippets of Stings 1993 solo cut "Shape Of My Heart." Sting initially seemed cool with the song, telling Billboard it was a "beautiful interpretation." But now it seems the rock legend has changed his mind and wants even more profits from the song.
The rapper at the helm of "Lucid Dreams" is taking it all in stride. He addressed the controversy on Twitter.
"Lost millions made millions…the song impacted to many ppl in a good way for me to be upset over it," Juice WRLD wrote. "there's always more money to be made and I will it so [two heart emojis]."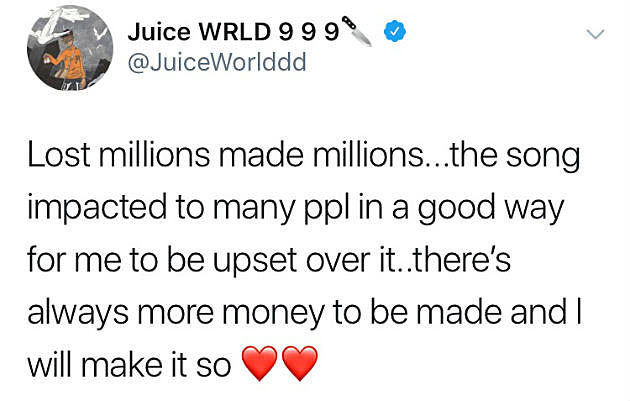 During Mira's rant, he detailed the terms of Sting's alleged lawsuit.
"Fuck @OfficialSting and his WHOLE team," he wrote. "After taking 85% of Lucid Dreams (for interpolating Shape of My Heart, NOT EVEN sampling) he threatened to take us to court for trying to get any %."
At least Juice WRLD is handling it in a more constructive way.
Revisit the song in question below and keep scrolling for Sting's version.