Dwayne Johnson has made music before: the global superstar cracked the Billboard Hot 100 chart five years ago with his Moana song "You're Welcome," and in 2000, at the height of his pro wrestling run as The Rock, he popped up on Wyclef Jean's single "It Doesn't Matter" for some catchphrase-dropping tough talk.
Yet "Face Off," the new single from veteran Kansas City rapper Tech N9ne, features Johnson as fans have never heard him before — delivering a guest verse full of rapid-fire bars and chest-thumping profanity. It's a far cry from Moana, and a true surprise from one of the most famous men on the planet.
Following bullet-time verses from Tech N9ne and his Strange Music label cohorts Joey Cool and King Iso, Johnson matches their speed and intensity on the track, packing his personally written "Face Off" verse with internal rhymes like "Black and Samoan in my veins, my culture bangin' with Strange/ I changed the game, so what's my motherf–kin' name?" Johnson sounds like he's having a blast alongside the technically gifted MCs on "Face Off," and fans have responded in kind during its first week of release, giving its music video 3.7 million YouTube views and keeping the song near the top of the iTunes songs chart all week.
During an extended phone conversation with Billboard earlier this week, Johnson discussed how the collaboration came together, why now was the right time for his guest-rap debut, and the type of music he might explore next. (Ed. Note: this interview has been condensed for clarity.)
What have the past few days been like for you, in terms of and hearing from your fans and people experiencing this type of music from you for the first time?
The past few days have been, in a word, phenomenal. And you know, you said a great word about it, "experience" — the goal was to create and deliver a song that got your blood pumping, but also, we talked about things that were important to us, in terms of our drive, our cultures, our lives. So these past couple of days have been great, and the fan response has been f–king crazy.
I think the pairing of myself and Tech N9ne, Joey Cool and King Iso from Strange Music, the entire convergence was something that caught people off-guard. There was a unique intrigue and interest as to what we were going to deliver. And not a lot of people know this, but I've been friends with Tech for many, many years now. So I think, when the song hit the streets, it blew a lot of people away. Watching reactions to the song, getting a sense of all the comments across the boards, has been great.
I've watched a lot of YouTube reaction videos, so you're watching these people watch the video and listen to the song — and they know that I'm coming in as the anchor! [Laughs.] So there was a lot of [people] like, "Ohhh, s–t. This is either going to be f–king horrible, or hopefully, pretty good."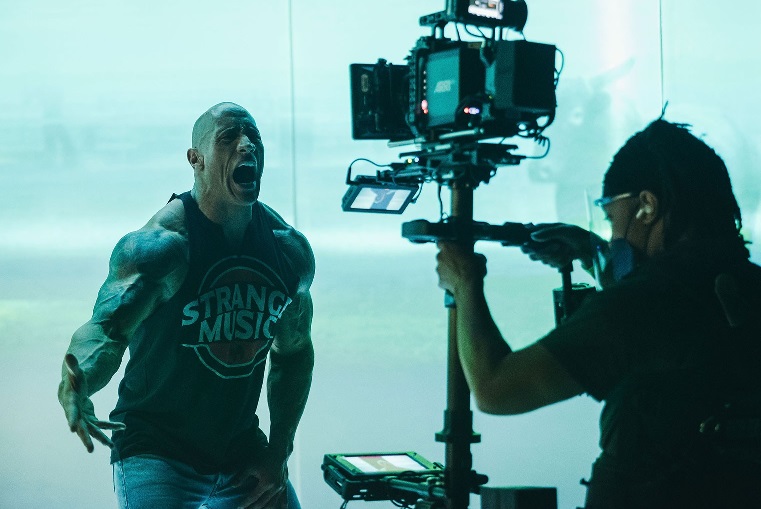 Amanda Westcott, AK Collective Inc*
Dwayne Johnson
Tell me about the process of creating your verse — batting cleanup on this song with such gifted technical rappers. What was it like thinking about these lyrics and then delivering them in a way that made you feel proud?
So Tech and Joey and Iso laid down their verses, Tech sent [the song] to me, and that then informed the direction of where I was going to go. My main goal was to write and deliver from my heart. And the B-side to that was to make sure that I was supporting these guys, who left it all out on the field. You hear the passion and intensity which they deliver to spit their spit and attack their bars. So that set me up for a challenge.
When I talked to Tech, he said, "Listen, this is you, and I want you to write this whole thing." I said, "Okay. I want to warn you — I'm not that great of a writer, but I do write how I speak, which is very direct. So let me put pen to paper. Let me write from the gut." I wrote everything out as best I could, and then I got together with Tech. And this is where his mastery really shined, because he then was able to help me with word structure, cadence and overall thought.
For example, we knew that we were going to end on [the phrase] "extreme mana." I'm half-Black and Samoan, and in my Polynesian culture, "mana" means spirit, a power and a force that we all have within. So we knew we were going to end there, and we worked backwards. It was a great learning experience for me, from the master. When you look at the structure of the song — [raps] "When I'm rumbling, you're gonna scream 'Mama' / So bring drama to the king Brahma / Coming at ya with extreme mana!" — that [was the] flow and cadence and word structure he helped me with, and that was the magic.
Then there was a time where I said, "Can we add more gasoline to this?" And he said, "F–k yes, we can!" [Laughs.] We would add more words to help with that cadence, that iconic Tech N9ne delivery that he and his whole roster do so very well. That started with like [raps] "Desecration, defamation, if you want to bring it to the masses, face to face, now we escalatin'," right? So that's how we put it all together, and then once we were done, I went to the studio. I legit took three big swigs of tequila, I swear to God. I took the bottle with me in the booth, and I knocked it out.
And so what's cool about this is, at the end — I didn't expect them to do this — but Tech and his engineers kept all [my ad-libs] at the end. I say, "Thank you, brother Tech N9ne!" I take another swig of [my tequila brand] Teremana. I say, "Thank you Teremana!" Then, "One take, that's a wrap! Face off!" And I walked out of the f–king booth. It was truly one take. I like to challenge myself in movies that when I step on set, I am ready to go and we will get it in one take. So that's what we did, and then we got it in one take.
I'm sure that you've had countless requests to do music over the years. Why do this one? You said that you and Tech are close, but why now, on this song?
Because this music speaks to me, and I think his music speaks to a mass, yet specific, audience in hip-hop — who love and embrace the rush, who want that fire, who want that aggression. This was Tech's idea. He came to me last year and said, "I've been working on this. [hums "Face Off" melody] I don't know, I think it could be something big and I think we could align on this." When he pitched me that idea, I said, "I'm in. Let's figure it out."
The opportunities in the past that have come my way, to rap, to sing, have been great, and a lot of them are [from] my friends, and they're monster stars in the world of music. I love and respect their music, but those, it just never felt like — it's got to feel right, and it's got to feel real. And this did, with Tech.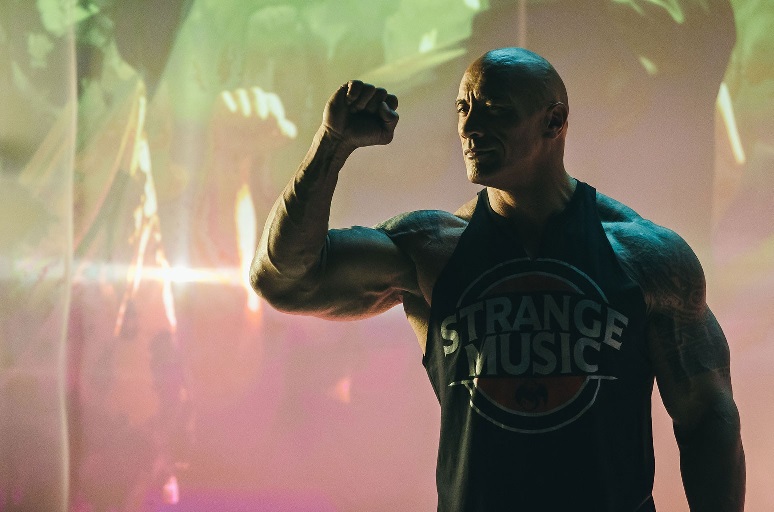 Amanda Westcott, AK Collective Inc*
Dwayne Johnson
Did recording this verse scratch an itch, where you're thinking about doing more music or collaborations?
Yeah, I would love to. Now I've been hit up by all those friends, like, "Okay, so when are we doing our s–t?" [Laughs.] But I'd love to continue to collaborate down the line with Tech, with Strange [Music], with other artists. Again, it just has to feel right, to feel real, where we can really dig in on something that's authentic and from the gut. But just as important is delivering something for the people that they would just love and go hopefully crazy over.
My love for hip-hop goes back from day one, and I love traditional and outlaw country music. I think there's something down the road where I may collaborate with some artists in that genre as well. Some of those guys are my friends — like, for example, Jamey Johnson, Mickey Lamantia, Gethen Jenkins. There's a real authenticity there, and, you know, maybe I could pick up my guitar.
Music, especially old-school hip-hop, is a sneakily important part of your show, Young Rock.
Yes! Thank you for saying that. I have always felt that music is the soul of movies and TV shows. For Young Rock, there's so much happening in the visuals and innately in the story, because we are spanning three different periods of my life. You got little Dewey running around with an afro, then 15-year-old DJ running around with a mustache, and then college-age me. There's so much happening, but the thought was always: We can lift these scenes with iconic music. Immediately, when you hear [those songs], people are just taken back to that particular time in their lives.
Do you have any specific hopes for what "Face Off" accomplishes?
Our goal was to create a song that got people's heart rate up just a little, and their adrenaline pumping just a little bit more, and also created a song that could potentially become anthemic in people's lives. It started with us personally, with me and Tech and Joey and Iso, [saying], "What's the song that we want to hear every time those guys hit the stage? Or every time I hit a movie set, or the gym? What's a song that we know that teams would play in the locker room before they went out on the field?"
The goal was to create something that's long-lasting, that has the ability to span time. And it shakes the cities, moves the crowd, and gets you really f–king going.