Whether it's fear of retaliation or simply a sign of respect, Lil Pump was nothing but demure when responding to Eminem's Kamikaze diss. On the song "The Ringer" Em accuses Pump and Lil Xan of biting Lil Wayne.
In the comment section of Shady's album announcement, Pump wrote, "thank you I deserved that."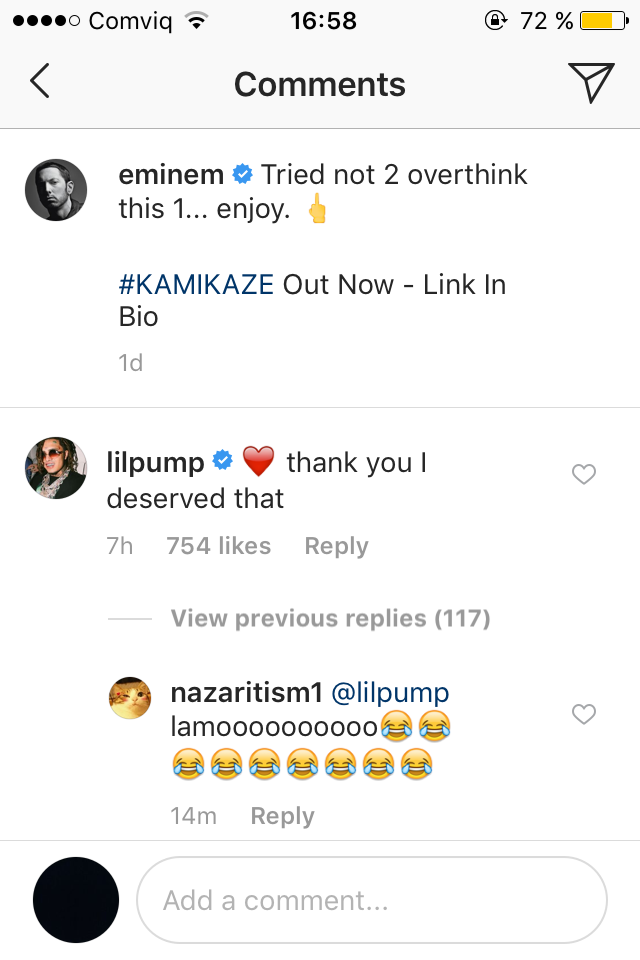 Pump's response is vastly different from how he reacted to J. Cole's "1985 (Intro To The 'Fall Off'" single back in April. Twitter assumed the song, which came with an ominous warning aimed at an entire generation of SoundCloud rappers, was directed specifically at Pump.
Once the 18-year-old caught wind of it, he laughed it off and referred to Cole as a "lame-ass jit."
"Wow you get so much props," he says in a clip. "You diss a 17-year-old. Lame-ass jit."
Lil Pump reacts to J Cole supposedly dissing him on his new album 'KOD' 👀 @lilpump @JColeNC pic.twitter.com/7ya0hn17AN

— WORLDSTARHIPHOP (@WORLDSTAR) 20 апреля 2018 г.
Pump is getting ready to drop his long awaited Harverd Dropout project on September 14.
The albums marks the follow-up to Pump's 2017 self-titled debut album, which debuted at #3 on the Billboard 200. It was certified gold by the RIAA in June.
Listen to "The Ringer" below.