R&B's rich, dynamic legacy — past, present and future — pulsated throughout the 2020 Soul Train Awards. BET Networks' two-hour virtual telecast (Nov. 30) also doubled as a reminder that the genre is very much a vital player in contemporary music that should not be ignored.
H.E.R. underscored just that while accepting her award for best R&B/soul female artist. "People say R&B is dead; R&B is not dead. R&B is in everything," said H.E.R., who vied against Beyoncé, Alicia Keys, Brandy, Summer Walker and Jhené Aiko in the category. "It's rhythm and blues, and has a lot of champions. I said this last year, 'When one of us wins, we all win.' We are forever."
H.E.R.'s acceptance speech was just one in a series of memorable show moments. Taking place at The Lot Studios in West Hollywood, Calif., the telecast mixed videos with live performances, the latter on a stage resembling an intimate club setting complete with a small band and a few socially distanced tables and sofas occupied by no more than two people — and all wearing masks.
Tichina Arnold and Tisha Campbell, former co-stars on the TV series Martin, returned for the third time as hosts. While keeping the show on pace with quick and easygoing banter, T and T also lit up the proceedings with their own brand of fireworks beginning with the opening sequence. In prefacing the opener, the pair proclaimed 2020 "the year of Black women" in the wake of the country being ravaged by racial injustice and COVID-19.
As dancers walked across the stage carrying black placards emblazoned with the words passionate, beautiful, resilient and blessed, the voice of Maya Angelou could be heard reciting verses from her poem "Still I Rise." Then the two co-hosts launched into a vigorous song-and-dance medley of female empowerment songs including Queen Latifah's "U.N.I.T.Y," Mary J. Blige's "Just Fine" (with the help of young female singer Saniya Antoinette Lane) and Beyoncé's "Run the World (Girls)."
"This show is all about love and celebration of our culture," said Arnold as the sequence ended. Before the rest of the proceedings got underway, Campbell noted that 2020 is "finally ending" and paid tribute once more to the "MVP's of it all: Black women. We turned it out this year."
That provided the perfect lead-in to the first award presentation and artist performance of the evening. In accepting the Soul Train Certified Award, R&B icon Brandy thanked BET for "supporting me ever since I stepped onstage in 1994." After dedicating the award to her fans, Brandy, wearing a black jumpsuit. flowing floor-length coat and beret, conducted the backing band in a bold performance of "Say Something" and "Borderline" from her latest album B7.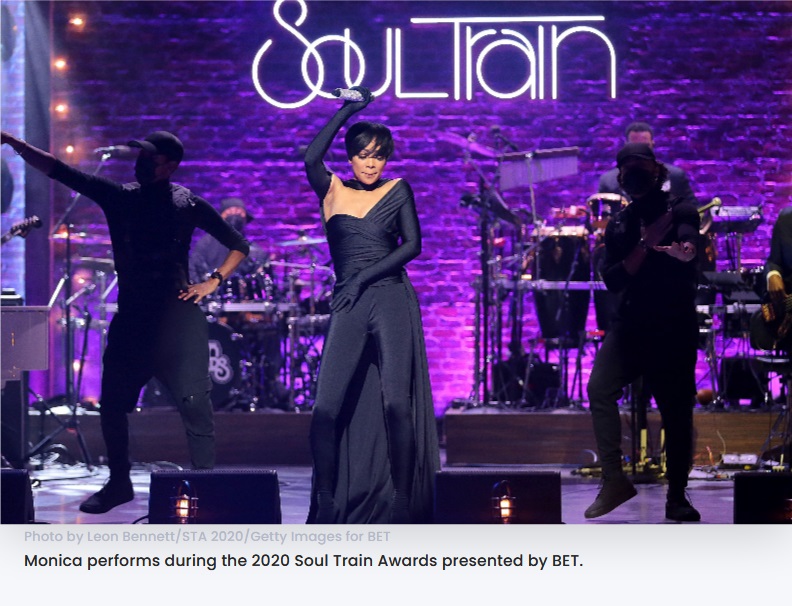 In a further nod to R&B's enduring legacy, the show's always-anticipated Soul Cypher raised goosebumps this year. And that's thanks to the exhilarating voices and harmonies of genre stars PJ Morton, Chanté Moore, Shanice and Stokley, who skillfully weaved in bits of their own hits and creative impromptu riffs against the backdrop of Erykah Badu's "Love of My Life."
Turning in electrifying performances of their own were several notables from R&B's current crop of contemporary stars. Among them: Ella Mai with "Not Another Love Song" from her upcoming sophomore album and Lucky Daye. The latter teamed his smooth tenor with that of Grammy-winning artist/songwriter/producer Babyface on their new collaboration "Shoulda." Repping the genre through strong video presentations were Jazmine Sullivan with latest single "Pick Up Your Feelings" and Snoh Aalegra, this year's Soul Train best new artist honoree, with her Billboard No. 1 R&B song "I Want You Around."
And proving there's no time limit on great singing, R&B legends Smokey Robinson and Charlie "Uncle Charlie" Wilson joined forces on their new mid-tempo single "All of My Love." Then Wilson paid homage to deceased gospel star Rance Allen with a spirited take on the late singer's "Miracle Worker." Rounding out the slate of performers were Cee Lo Green and emerging artists Ella Nicole and Moses Sumney, both of whom appeared on the telecast's showcase platform, the BET Amplified Music Stage.
Capping the evening was the annual Lady of Soul presentation to this year's honoree Monica. Honored via video by Ella Mai, producers Jermaine Dupri ("She got swag to go along with that voice") and Dallas Austin plus Erica Campbell (Mary Mary), Monica was brought to the stage by presenter H.E.R.. She described the singer/songwriter as possessing "the right kind of sass and confidence" while being "everyone's home girl who spoke to us, for us … and cemented her place in the music game and, most importantly, our hearts."
Sleek and chic in a one-shoulder, form-fitting black jumpsuit accessorized by black gloves and a floor-length train, Monica thanked family (dedicating the award to her late Uncle Larry), longtime industry supporters and fans while declaring, "I have accomplished a lot but there's so much more I'd like to do. With God still carrying me, I know it's possible." And though fans didn't get the chance to see Monica and Brandy reunite post-Verzuz for a performance of "The Boy Is Mine," Monica still delivered a rousing medley of her signature songs, including "Everything to Me," "Don't Take It Personal," "Before You Walk Out of My Life" and "Angel of Mine."
In addition to H.E.R., presenters for the 2020 Soul Awards included singer Andra Day and actors Deon Cole and Tessa Thompson.