For most of Thursday night, Gucci Mane was intentionally hovering in the background, intent on letting his artists soak in the moment. The rapper and CEO of The New 1017 label hosted a private dinner with about 35 people at the members-only club The Gathering Spot in Atlanta in celebration of So Icy Boyz, the compilation album he released Friday (Oct. 15) to showcase his newest signees.
The project features New 1017 signees Pooh Shiesty, Foogiano, BigWalkDog, Enchanting, Big Scarr, Hotboy Wes and Big Fizzle, in addition to verses from Lil Baby, Quavo and Bankroll Freddie. It's hard to celebrate this new roster for Gucci Mane's label without paying homage to the contributions he's made to rap over his lengthy career, though. That's why Atlantic chairwoman/COO Julie Greenwald surprised the rapper by presenting him with 18 plaques for various hit singles and albums in the middle of the three-course dinner.
"Look at all of your success," Greenwald said, gesturing at the plaques — which commemorated several of Gucci's biggest hits, including 2009's "Wasted" and "Lemonade," the Migos-assisted "I Get the Bag" and the Bruno Mars and Kodak Black collaboration "Wake Up in the Sky." "The reason why I know you're going to keep signing and developing amazing talent is because you are an amazing talent. We want to make sure you know that not only do we fucking love and appreciate you, but millions of motherfuckers do, too."
Gucci Mane appeared to be genuinely surprised by the presentation. "It feels good to be appreciated," he said, beaming at the number of plaques. "Thank you for all of the support. I couldn't have done it without y'all." (His wife, Keyshia Ka'oir commented that they'd have to make room for them in their new studio.)
Even the celebration of Gucci's past success was about more than him, though. For the New 1017 signees and proteges of the rapper, it served as a reminder of the type of success they hope to eventually achieve. Much of So Icy Boyz sounds like a celebration for the newcomers, with Memphis' Big Scarr rapping "Have a champagne shower, let's celebrate for the days we were broke / Told them Ima make it out the hood, they took me as a joke" on "Freestyle."
Arkansas rapper Big Fizzle, the youngest artist on The New 1017 roster, echoes this sentiment on "Sno Cone" with Quavo and Gucci Mane. "Whoever knew I'd be at the top. In the A, in the stu, it's me Quavo and Wop," he raps on the song. During the dinner, Fizzle told Billboard he's finishing out his senior year of high school virtually after his teachers found his presence to be a distraction. "When I got to school, everybody be recording me," he said. "I grew up around them, but they're still treating me like a celebrity."
BigWalkDog said the past few months have been a whirlwind for him, too. Within the first seven months of being signed, he's appeared on Jimmy Kimmel Live! and at Rolling Loud alongside Gucci Mane. "I ain't got enough thank you's in the world for him," the Tutweiler, Mississippi native said. "He comes to the streets and finds people. He ain't just YouTube surfing. He comes where you're at. I'm from the Delta, I don't know how he found me."
Hotboy Wes said Gucci's mentorship has taught the group of artists more than just rapping. He's worked to instill professionalism, punctuality and other business lessons in them, too. "He get on our ass like a father. I know the n—a ain't my daddy, but I know he's been through what I've been through," Wes said. "That n—a comes from the same environment we come from."
Launching The New 1017 hasn't just been a crazy ride for the artists — it's been thrilling to experience on the label side, too. Lanre Gaba, Atlantic Records gm/svp of A&R, notes all of these artists have been signed amid the Covid-19 pandemic. "It's funny to think about the fact that this started in a pandemic and all of the accomplishments so far in such a short amount of time," she said. "We've obviously had the success of Pooh [Shiesty] and Foo[giano]…. We're super excited about this next new crop of artists." Pooh Shiesty and Foogiano are both currently incarcerated, and were unable to attend last night's dinner.
Enchanting, the sole female artist signed to the label, told Billboard she was thinking about them during the event. "I'm putting on for them," she said. "Free Pooh and Foo."
Amina Diop, general manager at The New 1017, said Gucci Mane's ability to find artists who aren't located in traditional hip-hop hubs is a part of what makes him a great A&R. "Who signs someone from Arkansas or Waco, Texas?" she said, laughing. "He's not scared to let artists tell their stories [wherever they're from]… people go and look for talent in Atlanta, New York, Chicago or Detroit, but not Tutweiler, Mississippi, because where exactly is that?
"I think that the thing that makes Gucci sublime, just a trailblazer period in this industry, is his ability to spot talent, cultivate it and bring it to life," she continues. "I think this third class — because, to me, the first class was the Thugs and the Migos and the Peewee [Longway's], then the second class with Hoodrich [Pablo Juan] and Yung Mal — with Pooh and Foo, Scarr, Walk and all the new guys are just confirmation of the evolution of him as a CEO."
Greenwald told Billboard she hopes So Icy Boyz will help expand the artists fanbase. "For me, this album is all about Gucci helping us give sunlight to all of these artists," she said. "Success is introducing fans of Gucci to all of The New 1017 artists. We're trying to build a dynasty for him, a real legacy of artists."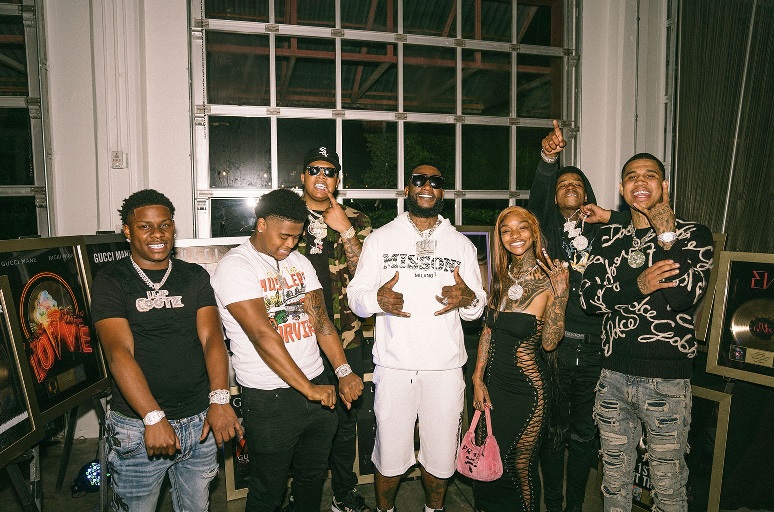 Matt Marzahl/@multimarz*
Cootie, Bic Fizzle, BigWalkDog, Gucci Mane, Enchanting, Big Scarr, Hotboy Wes