Ibiza, Spain – UPDATE: Future has shared his side of the story after footage surfaced of his bodyguard getting knocked out in Spain.
"Basically these fake goons ask to suck my dick for a picture I toldem NOOOOO…apparently they get angry and do sum sucker shit," he wrote on Instagram Stories. "I left the airport, they edit the video they filmed and sent it to blogs real real tuf guys …what they did to security I didn't see period, I'm not a witness to anything…leave me out anything have to do with this incident."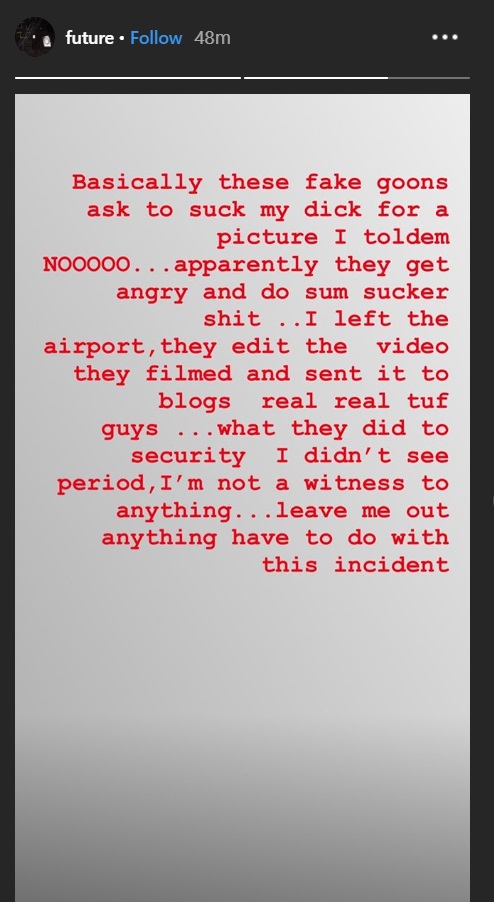 Future's bodyguard was on the receiving end of a brutal sucker punch during an altercation at the Ibiza Airport in Spain.
Video of the incident showed a man blindside the Freebandz rapper's protector with a right hand that knocked out the bodyguard. The disturbing footage showed the security personnel falling face-first on the pavement after being struck by the punch.
The attacker's face is clearly displayed on camera as he boasts about the KO.
According to TMZ, a source close to Future claimed it was a racially-motivated attack. The confrontation reportedly began when 10 people asked Future for a photo while he was walking through an airport terminal. When he turned down the request because he was tired, they allegedly became upset and began shouting racial slurs.
TMZ sources said the bodyguard stepped in to protect Future and allow the Epic Records artist to get to his ride. He allegedly fought with several men before he was hit with the sucker punch.
The unnamed sources also claim the attacker used a rock to knock out the bodyguard, but the footage doesn't clearly show any object in the attacker's hand.