Elvis Presley has a complicated and problematic legacy. Affectionately referred to as "The King" by his diehard fans, Presley has long been accused of not only stealing from Black music but also being a racist. In the late 1950s, Presley was allegedly heard saying, "The only thing a Black woman can do for me is buy my records and shine my shoes," but the rumor had no factual basis.
During a 1957 interview with Jet Magazine, Presley denied saying anything of the sort, explaining at the time, "I never said anything like that, and people who know me know I wouldn't have said it." Even so, the Hip Hop community historically rejected Presley as any kind of "king."
As Public Enemy's Chuck D famously rapped on the 1988 single "Fight The Power" from It Takes A Nation Of Millions … To Hold Us Back, "Elvis was a hero to most/But he never meant shit to me you see/Straight up racist that sucker was/Simple and plain," to which Flavor Flav added, "Muthafuck him and John Wayne."
Eminem, who is undeniably Hip Hop's most successful white MC, is also consistently accused of stealing from Black culture. On Thursday (June 16), Slim Shady shared his new collaboration with Cee-Lo Green "The King and I," which is taken from the forthcoming film Elvis directed by Baz Luhrmann. In the third verse, Slim Shady makes a bold admission over a sample of Presley's 1957 classic "Jailhouse Rock."
"I stole black music, yeah true," he raps. "Perhaps used it (For what?) as a tool to combat school/Kids came back on some bathroom shit/Now I call a hater a bidet (Why?)/'Cause they mad that they can't do shit (Haha)."
He also drew parallels between himself and Presley with, "Now I'm about to explain to you all the parallels/Between Elvis and me, myself/It seem obvious: one, he's pale as me/Second, we both been hailed as kings/He used to rock the Jailhouse, and I used to rock The Shelter/We sell like Velveeta Shells & Cheese (Woo!) (Let's go!)."
In the same aforementioned Jet Magazine article, it was said Presley regularly paid homage to his "Black roots" and claimed "he could never hope to equal the musical achievements of Fats Domino or the Inkspot's Bill Kenny." But still, many thought Presley's status as a musical and cultural icon was primarily due to the color of his skin, a sentiment echoed by those who also question Eminem's success.
The writer of the story, Louie Robinson, ultimately concluded: "To Elvis, people are people regardless of race, color or creed."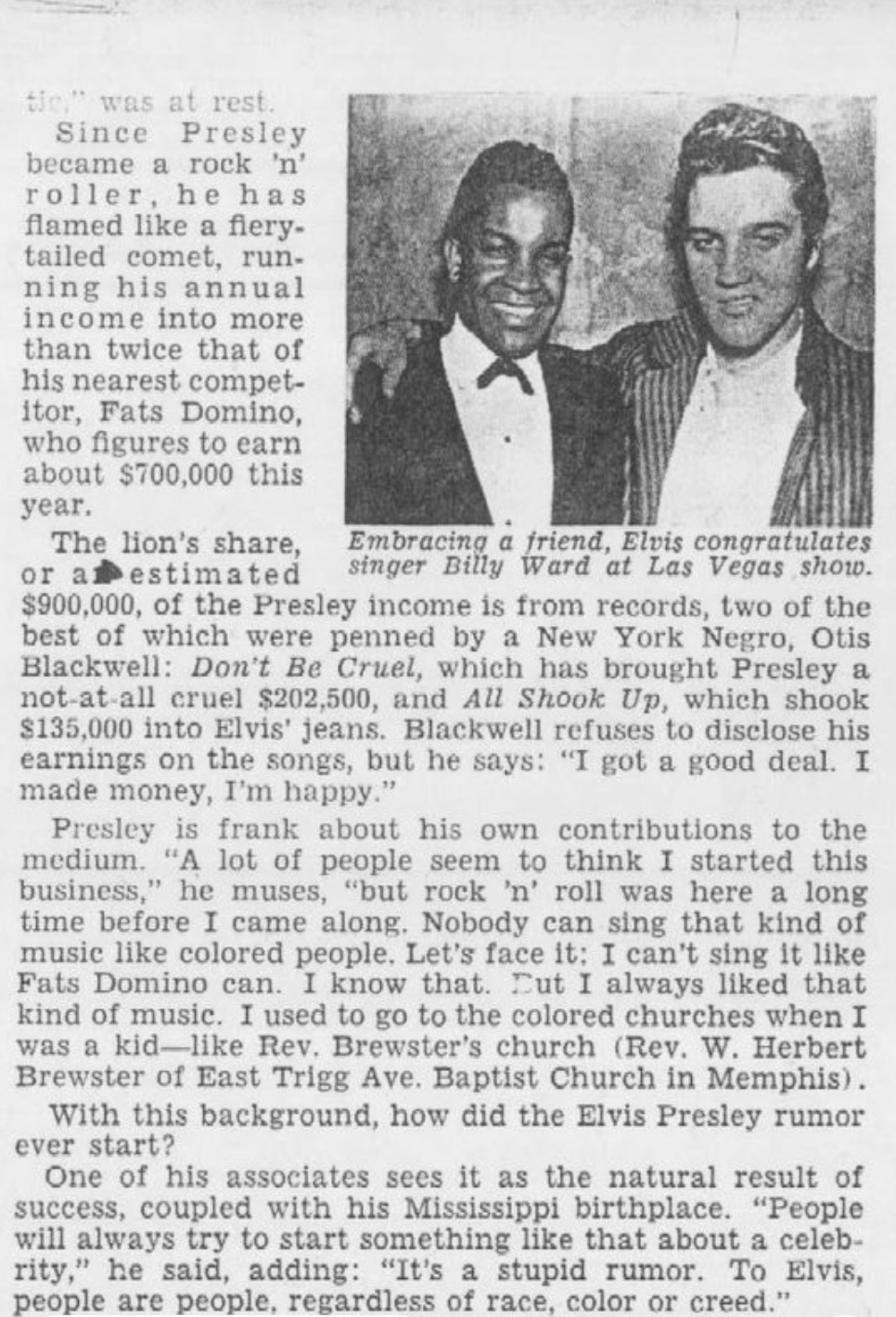 Jack Harlow, one of few white rappers dominating the Billboard charts these days, has faced similar allegations. In April, Top Dawg Entertainment's Punch tweeted about the validity of the Kentucky rapper's success after Harlow's "First Class" reached No. 1 on the Billboard Hot 100.
"It's really crazy how exceptional we have to be as oppose to other folks," he tweeted. "They just need a C+ average basically. If that. We really have to talk about it at some point."
He continued, "Kendrick is fine. He's been going hard at a high level from 04-2018 as far as output. He can take as much time as he wants. But he's also experienced C+ artist get more acclaim and opportunity than his A+ efforts. Look at his first Grammy experience. I guess I wasn't really clear here because a lot of ppl missed the point. Racism. Systemic racism. That's the point."
As for Eminem, he routinely cops to being a "guest" of Hip Hop culture. During a February 2020 interview with KXNG Crooked, he was asked how he felt about his position in the rap industry.
"I don't know if I got a chance to say this yet," he replied. "The funny shit is, with the whole beef a certain person [Lord Jamar], I never said I wasn't a guest. I'm absolutely a guest. I never said I wasn't. I never said I was king of anything, right? I had a song called 'Kings Never Die' … that was the concept of the song. I'm like, "I can't say I'm the king of Hip Hop, so I threw Run-DMC in there, Jam Master Jay.
"I don't want to be the king of Hip Hop. Who the fuck is the king of Hip Hop? Is there a king of Hip Hop? People say, 'Just because you sell the most records doesn't mean you're the best. Even though you can rap 40 million syllables doesn't mean you're the best.' I care more rhyming the syllables. I care more about the craft than any of the other stuff."
Elvis stars newcomer Austin Butler, Tom Hanks, Maggie Gyllenhaal and Helen Thomson. The film hits theaters nationwide on June 24.