Drake has expressed his condolences following the death of a man he says played a huge role in shaping his life.
On Tuesday (November 7), the 6 God took to his Instagram Stories where he shared a heartfelt message about the passing of his longtime friend and producer, Noah "40" Shebib's father, Donald Shebib — a renowned Canadian film director.
"Don Shebib gave me one of my best friends in the world and we were able to build something that changed our lives and our city forever," Drizzy wrote next to a photo of him hugging Shebib.
"Long love the Don we will continue in your honour for as long as they allow us," he added.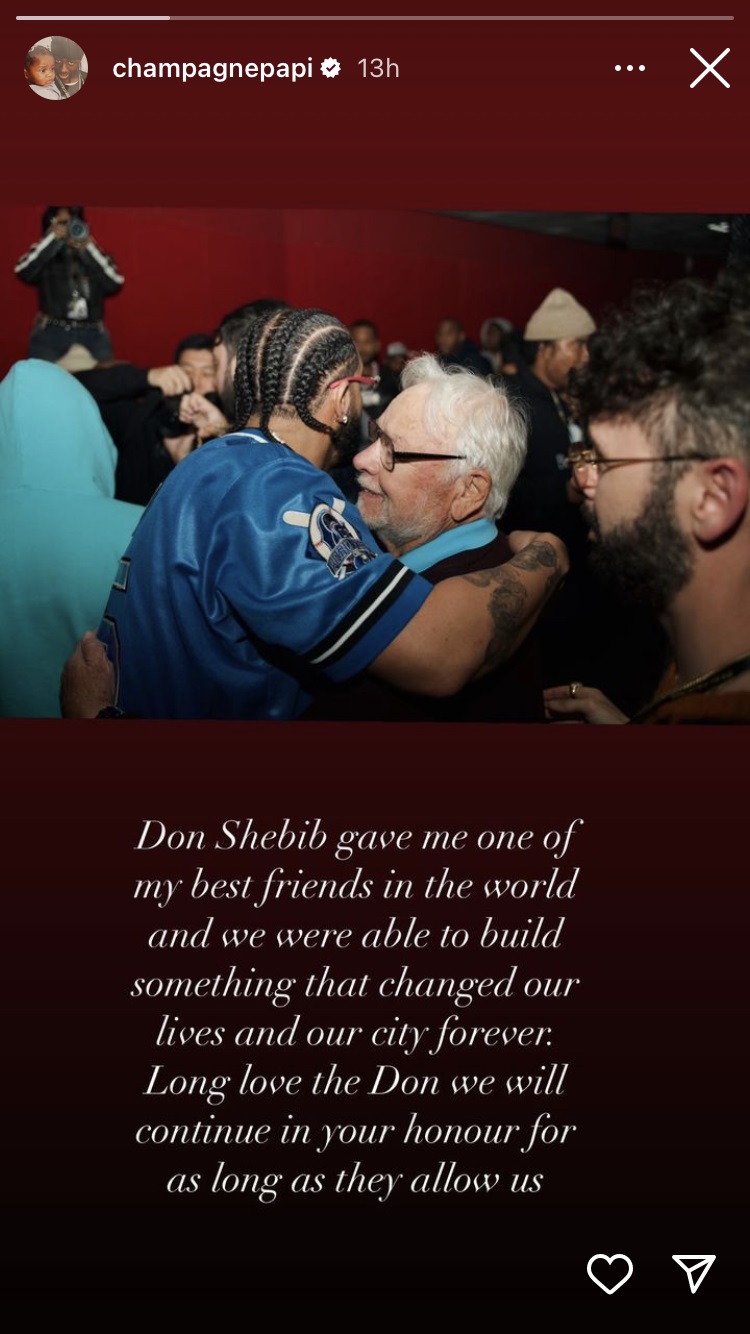 Hours earlier, 40 himself took to social media to mourn the death of his father, while also celebrating his legacy and sharing fond moments of them together.
"R.I.P. Donald Shebib. I love you Pops," he wrote in one Instagram post accompanied by a slideshow of photos of his father in his younger years.
"I will always miss you my good friend [hand heart emoji] Until I see you again. Rest in Paradise [black heart emoji]," he wrote in other next to throwback pics highlighting their father-son relationship over the years.
Additionally, underneath a photo of his late father gazing out of a window into the snowy distance, he wrote: "Donald Shebib. The legendary Canadian Filmmaker. You deserve all your flowers. [black heart, flowers emoji]."
View this post on Instagram
The death of Noah "40" Shebib's father comes on the heels of the producer's comments addressing the horrors unfolding in the Israeli-Palestinian conflict.
"I live in Canada," the OVO Sound musician wrote on Instagram. "One of the worlds most brutally violent colonial regimes. Still in active genocides against indigenous peoples. It's hard to speak as I sit here benefiting from colonial violence to the highest degree.
"Believing in both the human rights of Palestinians and the right and need of a Jewish state has meant I have always had friends on both sides. And beyond the physical war, seeing them be pushed into extremism by such acts of violence is distressing."
He added: "This is what colonialism looks like. It's what it's always looked like. When will this stop? When will life win over death? The world did not come and stand with the Jewish people during the holocaust. Now we watch as the world does not come and stand with Palestine. I'm ashamed and devastated by it all."
In the same post, Shebib shared a photograph of a T-shirt that reads: "WE ALL KNOW TOO WELL THAT OUR FREEDOM IS INCOMPLETE WITHOUT PALESTINES FREEDOM."