Dr. Dre and JAY-Z have something else in common outside of their enormous Hip Hop success: an appreciation for Pablo Picasso.
The legendary producer's son, Truice Young, posted a photo on his Instagram Stories on Wednesday (September 21) showing his father posing in front of a painting by the iconic Spanish artist.
In the photo, Dre can be seen sat at the head of a marble table with the rare Picasso painting hanging on the wall behind him. The artwork depicts a person with yellow hair in his distinct surrealist style.
Fittingly enough, Young soundtracked his Instagram post with JAY-Z's 2013 song "Picasso Baby," specifically the part where he rapped: "I just want a Picasso / In my casa — no, my castle."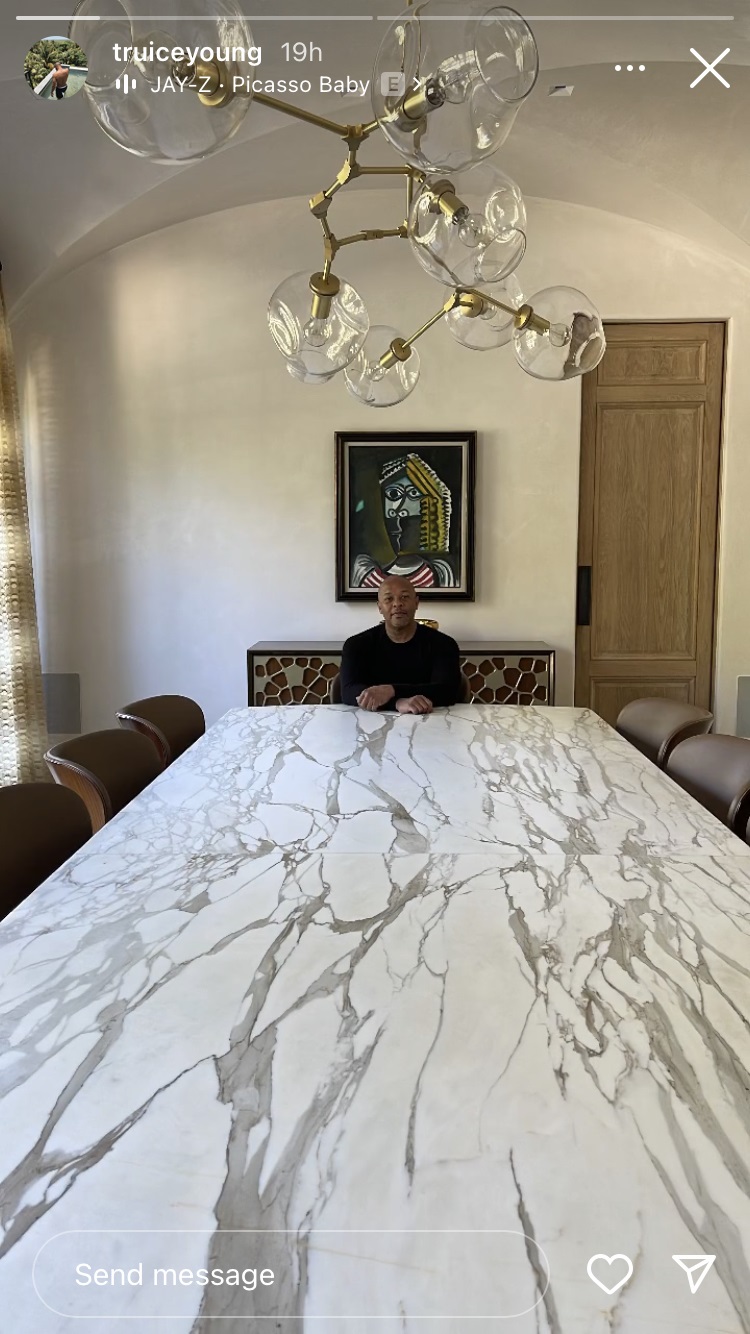 Dr. Dre is no stranger to Picasso's work. Fans may remember the Aftermath founder name-dropping the late painter on "Deep Water," from his 2015 album Compton.
"I heard you talking about respect, I gave you n-ggas the utmost / All you n-ggas the utmost / Would you look over Picasso's shoulder / And tell him 'bout his brush strokes?" he rapped.
"Picasso Baby," meanwhile, appeared on JAY-Z's 2013 album Magna Carta… Holy Grail, which was riddled with references to fine art.
The song was even accompanied by a "performance art film," which found the Roc Nation boss bringing the track to life in front of an audience inside the Pace Gallery in New York City.
Kanye West also referenced Picasso with the title of his 2016 album The Life of Pablo. Its name was also interpreted as a nod to the drug lord Pablo Escobar and the Apostle Paul (which translates to "Pablo" in Spanish), with its cover art asking: "Which one?"
One of the most prolific and influential art figures of the 20th century, Picasso pioneered the Cubist movement while creating over 20,000 pieces of art during his 91 years on Earth.
Since his death in 1973, Picasso's work regularly sells for tens, if not hundreds, of millions of dollars, fetching over $650 million last year at auction alone.
While it's unclear how much Dr. Dre paid for his Picasso painting, his estimated $800 million net worth certainly affords him a seat at the table when it comes to bidding for the artist's work.