DJ Shadow has returned with Our Pathetic Era, his follow-up to 2016's full-length effort The Mountain Will Fall.
Packed with 26 tracks, the project features a roster of notable guests, including Nas, Raekwon, Ghostface Killah, Run The Jewels, De La Soul and Pharoahe Monch.
In September, the formidable producer/turntablist explained the concept of the album in an Instagram post.
"Despite the title, 'Our Pathetic Age' is a hopeful, vibrant album," he captioned the video clip. "As an artist, I feel an obligation to interpret the world around me, and there's no denying that these are times fraught with angst and pain. Yet, always there is light in darkness, and that's the energy I have sought to harness."
Our Pathetic Era arrives via Mass Appeal Records. It marks the sixth entry in Shadow's discography, which began in 1996 with the critically acclaimed Endtroducing… project.
Check out the album stream, cover art and tracklist below.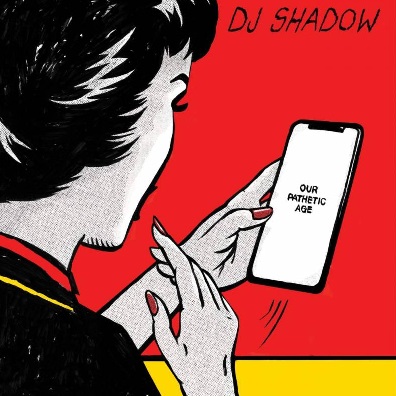 1.Nature Always Wins
2.Slingblade
3.Intersectionality
4.Beauty, Power, Motion, Life, Work, Chaos, Law
5.Juggernaut
6.Firestorm
7.Weightless
8.Rosie
9.If I Died Today
10.My Lonely Room
11.We Are Always Alone
12.Drone Warfare f. Nas & Pharoahe Monch
13.Rain Or Snow f. Inspectah Deck, Ghostface Killah & Raekwon
14.Rocket Fuel f. De La Soul
15.C.O.N.F.O.R.M. f. Gift of Gab, Lateef The Truthspeaker & Infamous Taz
16.Small Colleges (Stay With Me) f. Wiki & Paul Banks
17.JoJo's World f. Stro
18.Kings & Queens f. Run The Jewels
19.Taxin' f. Dave East
20.Dark Side of The Heart f. Fantastic Negrito & Jumbo Is Drama
21.I Am Not A Robot (Interlude)
22.Urgent, Important, Please Read f. Rockwell Knuckles, Tef Poe & Daemon
23. Pathetic Age f. Samuel T. Herring
24.Been Use Ta f. Pusha T
25.Taxin' f. Dave East (Long Version)
26.Two Notes f. Barny Fletcher