After scoring a best new artist Grammy nomination earlier this year, rapper, songwriter and pianist D Smoke is back with his second studio album, War & Wonders, which was released last Friday (Sept. 24) via WoodWorks Records and Empire.
The 16-track project is packed with powerful messages, smooth beats and features by artists including Ty Dolla $ign, Marsha Ambrosius, Dem Jointz, Tobe Nwigwe, BJ the Chicago Kid, Fireboy DML, Westside Boogie and John Legend. And D Smoke tells Billboard that his brother, R&B singer Sir, delivers a "soulful moment" on their collaborative tune "Common Sense."
Sir also appeared on "Closer to God," a duet featured on D Smoke's 2020 debut, Black Habits. The project followed the Inglewood native (born Daniel Farris) winning the 2019 inaugural season of Netflix's hip-hop star search competition, Rhythm + Flow, with judges Cardi B, Chance the Rapper and T.I. The bilingual teacher-turned-rapper scored two 2020 Grammy nominations thanks to the project, for best new artist and best rap album, and also gained an outstanding new artist nomination from the NAACP Image Awards. Black Habits peaked at No. 2 and No. 25 on Billboard's Heatseekers Albums and Independent Albums charts, respectively, and has earned 52,000 equivalent album units to date, according to MRC Data.
For War & Wonders, D Smoke co-executive produced alongside DJ Shanks, and received contributions from producers including Marlonwiththeglasses, D.K. the Punisher, Seige Monstracity, J. Lbs, Andre Harris and Cardiak. Also exciting for D Smoke: he wed singer Angelina Sherie on July 24, a milestone he celebrates in his album cover, which depicts his new wife adorning a gold necklace on him as he moves "one step closer to God" in marriage. Up next, D Smoke will release a new novel, which he says is practically "a movie," and on Wednesday (Sept. 29), he announced his North American War & Wonders tour, set to begin in Detroit on Nov. 30 (full dates below).
D Smoke reflects on War & Wonders, coming up through his Inglewood hometown, and why he almost didn't compete on the life-changing Rhythm + Flow. (Ed. note: this interview has been condensed and edited for clarity.)
How proud do you feel to complete two albums in less than two years?
It feels incredible, especially given the year that we've had [amidst the pandemic]. That type of year will test your creativity, resolve and commitment to what you do. It'll make you want to quit. But that's not an option.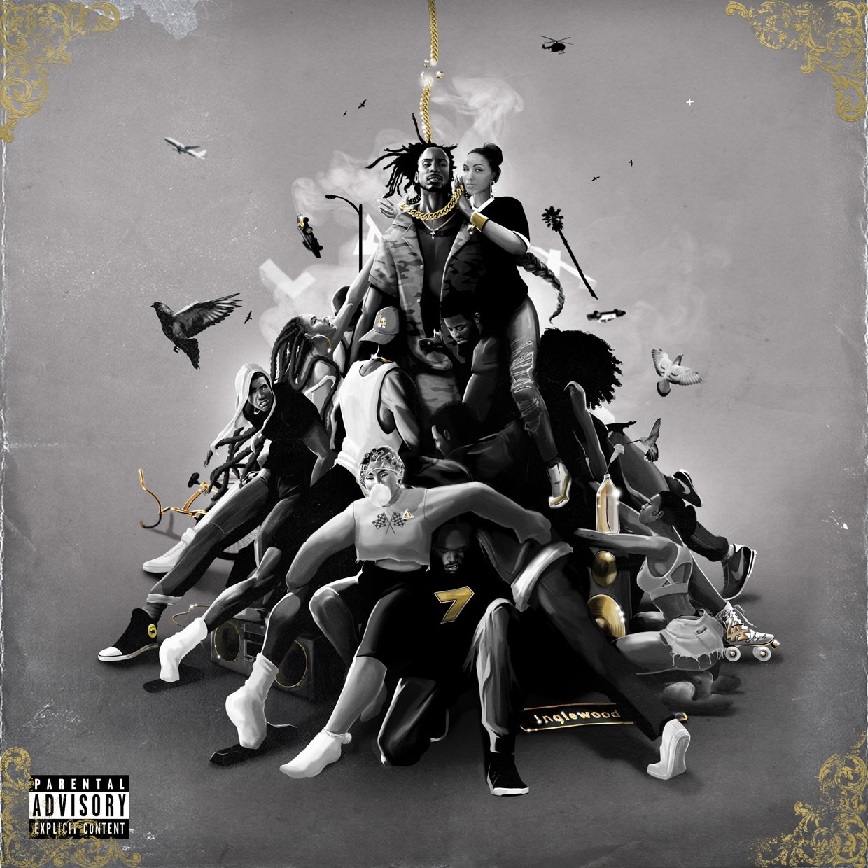 There's no better feeling than to finally be proud enough to say, "I can let this go and give it to the world." But before that moment, there's no more difficult feeling than, "All right, we got to do more." Given how much work is put into these projects that aren't in our comfort zone, not just the recording but the inner work we do to make sure we come from an honest place, this feels amazing.
Do you believe winning Rhythm + Flow fast-tracked your trajectory?
Rhythm + Flow was one of those God-sent opportunities that, given my experience in music and my family in Inglewood, I had a different level of preparation for. I don't want to compare myself to the other contestants, because they're all incredible artists, but it was a special opportunity for somebody like me, because those type of shows don't see [conscious rap] artists like myself often.
That's the reason I was about to pass on the show. It doesn't look like something that allows an artist like me to rise to the top. But there were elements they did correctly because people behind the scenes were committed to doing something authentic for hip-hop. They made wise decisions, from selecting the judges to [airing on Netflix], to how they told stories that would allow people to connect in an environment that still has reality TV elements. They did the right things so I could shine and that's what I'm proud of and grateful for most.
Black Habits and War & Wonders were both released on WoodWorks Records/Empire. Do you consider them independent releases?
I released Black Habits independently, but not absolutely independently. A lot of people look at independence as "Do it by yourself," but nobody is successful by themselves. I had the support of a very equipped team, from my management to Empire. It is a label, but they're the forward-thinking label that allows you to come up with distribution agreements. They have label services, label professionals, but they're ahead of the curve in that they allow artists to maintain ownership in their masters and creative rights with how they want to sound and when they want to release. They're not holding the artists back in ways that some of those restrictive agreements that traditional labels do. In that sense, I am independent. But I'm not solo handing out flyers. I have a strong team and strong backing from Empire.
[War & Wonders] is still counted as an independent release in that I have ownership over my masters. When this is done, I will get all my masters back. It's licensing it so this company can have ownership and get behind it like their own, a shared endeavor. I'm not going straight to TuneCore or owned by another entity and being told what to do. I'm independent, as in I'm a boss of a larger team.
Why do you choose to stay true to your core values as a conscious rapper?
At the end of the day, I have to be myself. I don't judge anybody for choosing to do what's lucrative or to go a direction based on what's happening in music. If it's working and that's how you decide to do, I'm not knocking. But I have my own reasons.I didn't do it just to be a musician. I'm still doing what I was [as a teacher] in the classroom. I'm trying to be consistent with who I was before the glow up. People still run up and call me "Mr. Farris." For the people that I know and love, if I stop looking familiar to them [that means] I did something wrong. It's okay to grow and push those boundaries. But if I'm completely unfamiliar to the people that love me, are willing to disagree and have my best interests at heart, then I need to reflect.
As musically inclined star brothers, do you and Sir motivate each other creatively?
We listen to each other's stuff and pull up to studios when we can to chill and be inspired. We grew up doing music together. We were in a singing group as kids. We had a studio at 13 years old and knew how to produce. We bounce energy off each other and in very special moments, we get in the same room and write together."Common Sense" was something I sent him with the verse and hook and said, "Do you." For example, with "Closer to God," I forgot to trust him with his part. I came in like, "Hey, maybe you should try this?" He looked at me like, "Bro." Then I walked out like, "My bad, what came over me?" Next thing you know, he had something to press play.
What does the title "War & Wonders" mean to you?
War encapsulates what we've been experiencing in the past couple of years with what we battled mentally. The state of the world is so challenging. The wonders are similar to everything that I've endured in my life. When you make it past whatever hardships are in front of you, it's that bliss you experience, even if the only benefit is knowing you've grown as a result.In my life, some of the war elements are literal wars that we see in the streets when we lose young people to gun violence or health issues, some of the stories [on War & Wonders] are about that. Personally, the wonders are the glow up that I've experienced, like [finding] love in my life and getting married. From L.A. gangs to acting tough and learning to be humble to love and fighting against injustice, those are some of the topics we tackle on the project.
How many songs were complete before you narrowed the track list to the 16 songs that appear on War & Wonders?
At least 80 songs have been done since the first song was recorded for this album.
In curating this track list, what's the key message you want listeners to take away?
I want people to leave inspired, uplifted and educated. When I was in the classroom, I always wanted to leave people with life principles that you could apply, so I [make] songs with those principles, like "Good Thing."
"Good Thing" is one of those songs where I could begin straightforward, like "I heard good things come in many forms/ Get your blessings in the morning/ Them fake friends wasn't headed where I'm going/ Life is something like a poem." It's poetic, even when it's looking bad, that very experience can be a good thing.
You don't have to find it in the third verse of the song, it's straightforward. That came from someone close to me losing a close friend in hardship and it's been my experience that when friends start leaving your world, you've got to look at what's happening. Sometimes, those are the very people who don't know how to support you where you're headed.
What's the importance of representing and paying homage to Inglewood in your music?
It's not just me from Inglewood: my pops, brother, grandmother and cousins are from there. It's not a huge place, so if you come up in Inglewood and are outdoors, you know people from Inglewood and you develop a sense of pride because Inglewood will test you. It's like how Dr. Dre is from Compton. When I go back to my city, people remember me from before the music. I had a storefront in the city for years before we blew up.
I taught [Spanish primarily, music recording and financial literacy] at Inglewood High School, View Park [Preparatory Accelerated Charter] High School, Westchester [Enriched Sciences Magnets] High, [Augustus] Hawkins High and High School for Recording Arts [Los Angeles for seven years within a total of 10] before substitute teaching in Los Angeles Unified School District [for three additional years]. I went to public school.
The song "Why Run" mentions a kid I grew up with named Kevin — they called him K Bone. He was my young homie. When we used to pull out the boxing gloves and fight in the neighborhood, he'd say, "Nah, I'm cool." He used to fix motorcycles with the lawnmower engine and was a chill youngster. When I was in college, I started seeing him hanging with gang members. I knew the gang members too, but I never saw that in Kevin. Years later, I'm in a classroom teaching and one of my student's binders had a rest in peace obituary [for Kevin]. That's how I found out he passed, and that's the story I told on "Why Run." It's a very Inglewood experience, and unfortunately, it's common in many major cities, because inner city violence is something that we all are affected by, so I chose to share that.
Did the pandemic impact your music production speed?
Having to sit at home did two things: On one hand, it gave all the time in the world to create. On the other hand, it took away a lot of the stimuli that makes you want to create, human interaction. That's what I had to battle with creatively. As soon as I could, I got outside. I went to Nigeria in the middle of quarantine. I had some experiences that helped feed that creativity.
What have you learned about yourself in making this album amidst the pandemic?
I learned that the work always continues and sometimes those those new levels you reach make it make it more difficult to do the more important work. I have to stay focused on that.
Do you plan to submit War & Wonders for 2022 Grammy Awards consideration?
For sure. We're proud of it in the same way we were for Black Habits, so I can't wait to share it with the world.