To kick-off the opening week of the 2021-2022 NBA regular season, the Brooklyn Nets enlisted several hip-hop acts to perform at halftime. After having rap luminary Busta Rhymes and dancehall star Kranium perform Sunday and Monday night at Barclays Center, respectively, the Nets tapped rising rookie Capella Grey to showcase his talents at the Miami Heat game Wednesday night (Oct. 27) in Brooklyn.
"We pride ourselves on elevating the in-game experience for our fans, and this season we aimed to make the Nets' Opening Week at Barclays Center bigger and better than it has ever been – including our halftime entertainment," says Andrew Karson, brand marketing and solutions at BSE Global (parent company of the Brooklyn Nets and Barclays Center). "Hip-hop's roots can be traced throughout Brooklyn — and what better way for the Nets to tip off the 2021-22 NBA season at home than sharing our court with some of the biggest names in hip hop and emerging artists across multiple genres of the industry?"
Last night, Grey treated fans to a performance of "Talk Nice" and his Billboard Hot 100 hit "Gyalis." This year, the latter instantly became a summer anthem in the tri-state area because of its multi-layered sound. Backed by the tuneful sample of Juvenile's 1998 classic "Back That Azz Up," with a tinge of R&B and dancehall elements, Grey delivered a home-run sound that continues to pulsate through the streets of New York.
"It's good vibes on the song. It's positive energy," Grey tells Billboard after Hot 97 host Ebro Darden declared "Gyalis" song of the summer in August. "2020 was a rough year. I feel like people needed a whole new energy." Besides causing tremors in the tri-state area, "Gyalis" is also becoming a crossover radio hit. On the latest published Billboard charts (Oct. 30), the song is up to No. 3 on the R&B/Hip-Hop Airplay chart. It also recently cracked the top 10 on Rhythmic Airplay and reached No. 25 on the overall Radio Songs chart.
Grey's burst of energy has him blooming into a potential features star, as well. In the last few weeks, he's worked alongside Russ, Dream Doll, and most recently, A Boogie Wit Da Hoodie on "Bestie" for NBA superstar Kawhi Leonard's Culture Jam compilation project. With "Gyalis" looking to sprint to platinum status and Grey's stock continuing to grow (he was No. 2 on Billboard's Emerging Artists Chart), the Bronx native is hungry for more.
Billboard briefly spoke to Capella Grey following his halftime performance about his love for samples, working on features, and why he wants to change the landscape of hip-hop forever.
In a span of five days, you've performed at Madison Square Garden and the Barclays Center. Has it hit you yet?
I think it has, because I'm just taking time to really feel this. I'm trying to make sure that me and all the guys feel this because this [will be] our last time that we're feeling this for the first time. We have to make sure we really embrace this.
You've had the hot hand on the features side of things working with Russ, A Boogie Wit Da Hoodie and Dream Doll. Why do you think everyone is reaching out to you at the moment?
I don't know what it is, but… for this decade, I'm gonna make sure I'm on everything. I wanna be on everybody's hook, everybody's verse, everybody's bridge. I wanna write the song. I just wanna help push the culture forward. So however I can get in, I'm trying to fit in. I'm about to make this a legendary decade by doing the most.
I've heard snippets of you remaking several older hit records, like Cassie's "Must Be Love" and Usher's "U Remind Me." What is it about sampling that you enjoy so much?
I'm a fan of hip-hop — like a real, real fan. So just the essence of sampling, and taking one moment and being able to transform it into a whole different moment, I feel like it's inspiring being able to do that. With certain songs that I grew up on that I really loved, like "Must Be Love," "U Remind Me" or "Back That Azz Up," — that were lit in the clubs and were big moments — being able to transform that into a whole uptown vibe or whatever I want it to be as a musician, I feel like we're cheating right now. It's a good time for music right now.
On your Twitter, you said you're about to change the landscape of music with this new album. How so?
We're changing everything with this album. We're changing the vibes in hip-hop. We're changing the narrative of R&B. This ain't that "you have my heart, you had it from the start" R&B. We're going to write how we talk, and we're going to let people learn a little bit more about us through the music. We're going to be more honest in the music, and it's going to be a great vibe. Trust me, we're changing everything with this project.
The New York vets like Busta Rhymes and Jim Jones have praised you and embraced your sound. What advice have they given you that resonated?
Same thing I've been saying: Just do what you wanna do. They've been really woke about just me staying true to my sound and my style of doing things, because this is the energy that hip-hop needs right now. I just have to embrace it and don't let it be tainted by too many opinions or too much external hazing. They said just to stay focused, be me and stick to what I got going on.
What can we expect from you in 2022?
2022 I'm dragging it. 2021 was the introduction, and I set the tone so people know how to treat us. I feel like 2022, we're going to make a statement. We're going to make sure people understand the direction we're going in with hip-hop and R&B, and how we're really changing everything. A lot of features coming, mad tapes from me — I'm telling you, I have mixtapes coming, albums coming. It's not about just flooding everything with content but I feel like there's so much stuff to talk about and so much stories to tell. I can't wait to just bring this whole energy to the industry.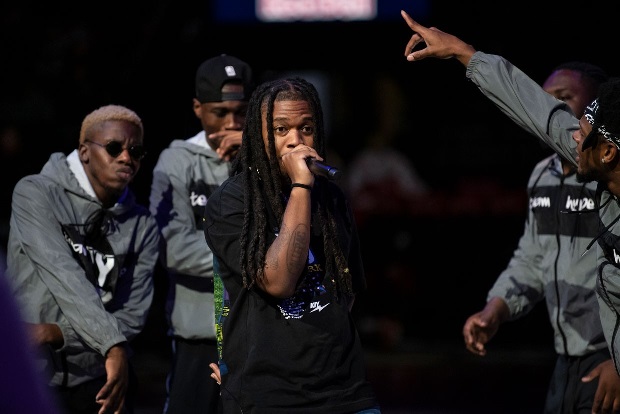 Kostas Lymperopoulos
Capella Grey