Blac Youngsta has followed up February's 223 album by releasing a new mixtape titled Fuck Everybody 2.
The project is a sequel to his 2016 mixtape Fuck Everybody and features a guest appearance by Lil Pump. Production is handled by Tay Keith, CMO and Rasta Rebelz, among others.
Check out Youngsta's Fuck Everybody 2 stream, cover art and tracklist below.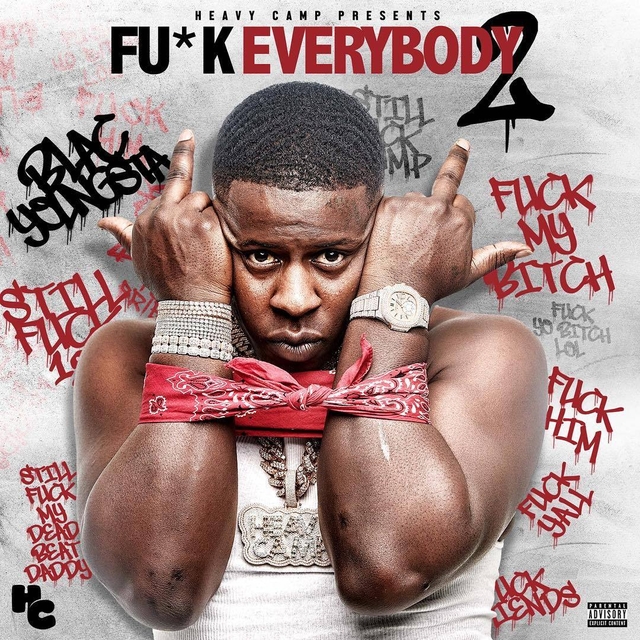 1. 901 (Produced by CMO)
2. Uh Huh (Produced by Yung Lan and Tay Keith)
3. Pull Up (Produced by TNT, Yung Tago and Rasta Rebelz)
4. 4 on 1″ (Produced by Rasta Rebelz)
5. Ight f. Lil Pump (Produced by Tay Keith)
6. Beginners (Produced by Resource)
7. Run Down (Produced CMO, Pac Man and Hitman PG)
8. Drive Thru (Produced by Rasta Rebelz, Yung Tago and Lando)
9. Bullshi" (Produced by CMO)
10. Breathe (Produced by Yung Lan and Trauma Tone)
Blac Youngsta is hopping on the trend of rappers livestreaming their listening parties.
The CMG artist announced plans to host a listening party for his Fuck Everybody 2 mixtape, which will air via Instagram Live on Wednesday (August 29).
"FUCK THAT SHIT I'M GONE LET MY REAL FANS HEAR THIS SHIT BEFORE IT DROP SO MAKE SURE YOU GET YOUR POPCORN READY AND TUNE IN EVERYBODY INVITED #HEAVYCAMP," he wrote.
In an Instagram post published on Monday (August 27), the always entertaining Blac Youngsta announced his next project, Fuck Everybody 2, is scheduled to drop on Friday (August 31).
"FUCK EVERYBODY 2 DROPPING 8/31/18," he wrote. "DROP IN THE COMMENTS IF YOU READY FOR THIS SHIT #HEAVYCAMP."
The original Fuck Everybody mixtape was released in 2016. Its sequel will be Youngsta's second project of 2018, serving as the follow-up to his 223 album.
223, Youngsta's major label debut, dropped in February via Epic Records. The LP peaked at No. 42 on the Billboard 200, moving 11,994 total album equivalent units in its first week.