Beyoncé and Jay-Z redefine fine dining in the bonus Date Night film for their "About Love" Tiffany & Co. campaign, which debuted Tuesday (Oct. 19).
Directed by Dikayl Rimmasch and second unit director Derek Milton, the new mini-film spotlights the superstar couple's night out on the town as inspired by the backseat taxi scenes from Breakfast at Tiffany's, soundtracked by Paul Anka's 1959 Billboard Hot 100 No. 2 hit "Put Your Head on My Shoulder," which was resurrected in Doja Cat's "Streets" silhouette challenge, as well as Bert Kaempfert's 1965 song "Three o' Clock in the Morning." As Bey rides into Manhattan in the backseat of a Rolls-Royce, she contemplates "he loves me, he loves me not" while picking at a yellow daisy before her husband hops in next to her.
"Shall we have pizza?" he asks, to which she responds, "I think we need pizza." And while enjoying NYC's finest slices, the two conclude, "We need champagne," before a bottle of Jay's own Armand de Brignac is brought to their window. But the real delight is when their 9-year-old daughter Blue Ivy makes a precious cameo and joins her parents and their pup for the family affair that turns quite sensual and sparkly at the end. The "Love on Top" singer shows off her 10-carat diamond ring and 6-carat diamond Ribbon Fan earrings, while the "Empire State of Mind" rapper dons the Bird on a Rock brooch, an 18-carat gold bird perched on a 44-carat morganite gemstone.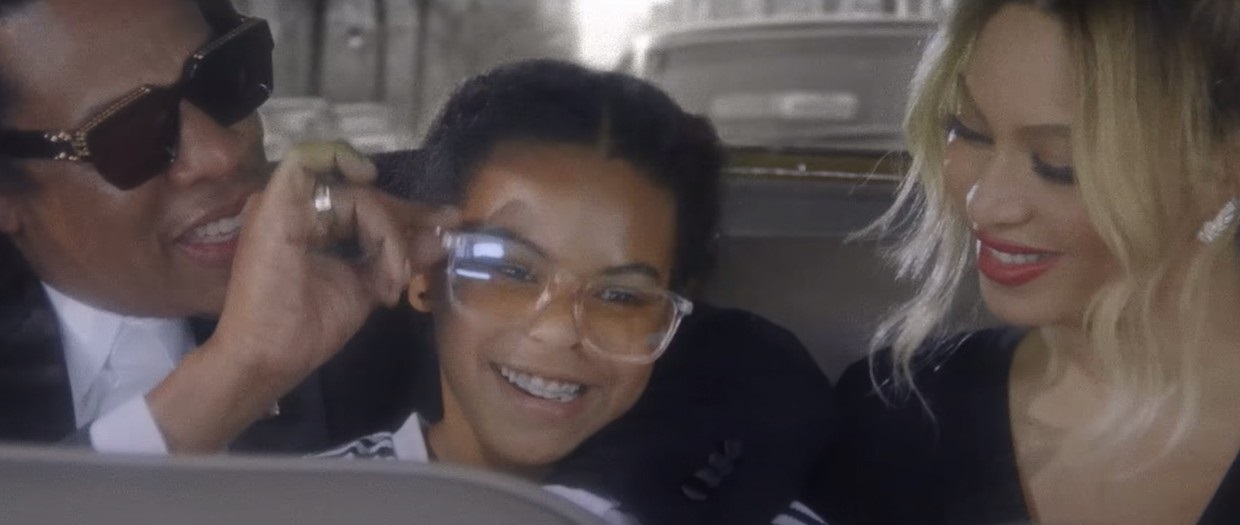 Courtesy Photo
The new Tiffany & Co. ambassadors starred in the About Love film last month, where Bey delivered a dazzling cover of Henry Mancini's "Moon River," which was made famous in Breakfast at Tiffany's.
The luxury jeweler announced in August that the power couple would be the faces of its latest "About Love" campaign, which featured Bey wearing the Tiffany Diamond — the first time the namesake gemstone had been worn in a campaign — as well as a never-before-seen Jean-Michel Basquiat painting, 1982's Equals Pi.
Watch The Carters' Date Night film for their Tiffany & Co. campaign below.