Prior to the COVID-19 pandemic, nobody was working harder in music than DaBaby. The March 2020 shutdown silenced much of the industry's events, and artists like Baby were forced to improvise. Just over a year later, that's beginning to change with states such as Florida opening up.
The Charlotte native signaled a return to normalcy when he hosted thousands of his pent-up fans at the Orlando Amphitheater on Saturday night (April 17) for a DaBaby & Friends showcase, featuring fellow South Coast Music Group running mates Toosii, Stunna 4 Vegas, KayyKilo, and more.
Craziest show of year 2021 😳🔥
Real N*gga Rockstar!#LiveShowKILLER pic.twitter.com/RWJwFi7kWX

— DaBaby (@DaBabyDaBaby) April 19, 2021
"It was refreshing to say the least," a hoarse-voiced DaBaby tells Billboard on his way to his GILT nightclub appearance following the concert. "I can barely talk right now, but I had a blast out there. I look at it as: I'll be the one to show everyone else we can get back out here and perform in front of these fans. I wanted to take that chance to make it look like Rolling Loud."
Saturday marked the first time DaBaby performed "ROCKSTAR" in front of an audience, and it didn't disappoint. His first Billboard Hot 100-topper may have never come to fruition if the 29-year-old listened to the social media-driven narrative believing he was over-saturating the market with music.
"Yeah," he admits of hearing the chatter. "I'm like, 'F— it.' It's been like that from day one. We just been going against the grain, and that's something that I'm used to doing. We did a No. 1 song out of that, but it definitely won't be the last."
South Coast Music Group CEO Arnold Taylor — who signed DaBaby in 2015 — had no issues with going ahead with his client's second album within six months, because he believes his fans are trained to expect music in a timely manner.
"He's trained his fans to put out albums every six months," Taylor, 48, explained in a separate phone call. "He's not J. Cole or Kendrick [Lamar], where they train their fans to wait a year or two. Different artists can do different things. He's got eager fans, but we trained them that way."
Blame It on Baby earned DaBaby his second consecutive No. 1 album and first No. 1 hit on the Billboard Hot 100 — with some help from Roddy Ricch — but with the album just passing its one-year anniversary (April 17), it's already the longest that the star rapper's fans have had to wait for a new LP. Nonetheless, at the end of our conversation, Baby promises he'll be back soon with his third studio LP to heat up the summer.
"July," he states of plotting his next album. "That's an exclusive." He remains tight-lipped on a possible title and features, while DaBaby has been rumored to be working with Lil Durk, Lil Baby, and Bobby Shmurda.
While he's only released a lone single in "Masterpiece" at the top of 2021, DaBaby has nonetheless had a stranglehold on the Hot 100 during the pandemic thanks to his versatile feature bag. He holds five placements on the most recent chart (dated April 17), with the highest being his groovy "Levitating" remix with British-Albanian pop star Dua Lipa at No. 7, after the song previously hit a peak of No. 5.
Baby called working with the 25-year-old superstar a "dope" experience, and marveled at their magenta-splashed Grammys performance. "Dua is super talented," he says. "It was definitely dope working with her, and then the Grammy performance is just another level."
Back in 2019, during his first Billboard interview, DaBaby prophetically said he would eventually be nicknamed Billboard Baby with all the hits he had coming to the charts. "BILLBOARD BABY" ended up being the title to one of Blame It On Baby's 2020 deluxe edition tracks.
"I wanted to keep diversifying him as an artist," Taylor adds of his DaBaby invading the pop world for assists. "That's just the market reaching me, so I can tie the ties in and put the pieces in the place where he's not selling the most. I want to make sure the artist never has a gap with an audience."
For the South Coast Music Group boss, who signed DaBaby in 2015 and started the imprint a year prior, this is exactly the path he envisioned for the Charlotte rapper, but he points out they never skipped steps on Baby's slow-grind to mainstream success.
"When I signed DaBaby, I said he's got the personality and swag that made me confident in making it happen for the Carolinas. Every time we tried to skip steps, it bit us," Taylor clarifies. "We had a deal with Roc Nation before we got to Interscope. We stayed true and didn't stop grinding. I think that's what separates us from most people."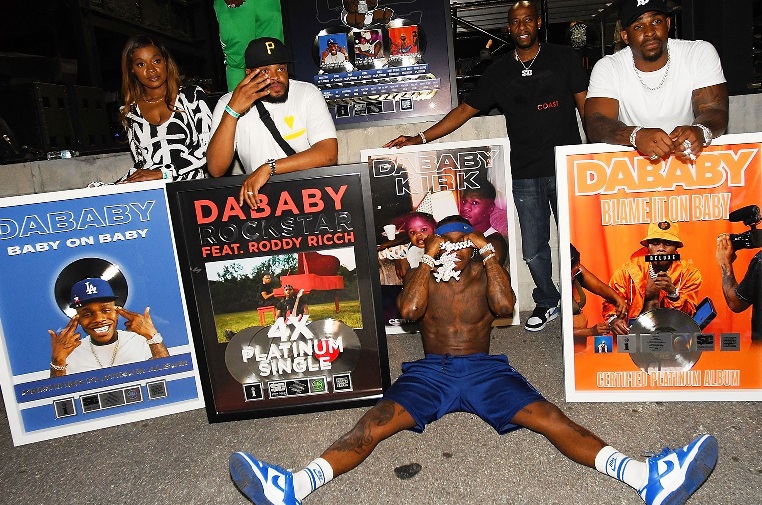 Meanwhile, in the midst of his Orlando concert on Saturday night, Taylor, King Carter, and other members of Baby's team surprised him on stage with a stack of new platinum plaques to add to his growing collection. The RIAA doled out 27 certifications in total to the "Suge" rapper's catalog, with the most notable being "ROCKSTAR" getting halfway toward diamond status.
"I've had a blast doing it — but there's plenty of more where that came from," DaBaby promises. "I'm only two years in, and one of those years being stuck in the house during a pandemic. So it's really just a year in. This s–t isn't gonna stop no time soon."
Посмотреть эту публикацию в Instagram