Stockholm, Sweden – Stockholm police have reportedly arrested A$AP Rocky on suspicion of aggravated assault. TMZ reports police can hold the A$AP Mob rapper for up to three days while prosecutors determine how to charge him.
Three other people were also taken into custody — two on suspicion of aggravated assault and one for suspicion of assault — but their relationship to Rocky is undetermined.
The incident took place on Sunday (June 30) after two groups of men allegedly got into an argument over a pair of broken headphones. But according to a roughly three-minute video Rocky posted, it appears the man broke his headphones when he smashed them on the head of Rocky's bodyguard.
Although Rocky attempts to squash things, a fight ultimately broke out and Rocky jumps in. In the Instagram caption, Rocky says the men followed them for four blocks and "were slapping girls butts who passed."
He could face up to six years in a Swedish prison if prosectors move forward with the charges.
A$AP Rocky and his crew were apparently involved in an altercation while overseas. In video obtained by TMZ, the A$AP Mob rapper gets into a heated altercation with two men at a Max restaurant in Stockholm on Sunday night (June 30).
The reason for the argument was allegedly over a pair of broken headphones.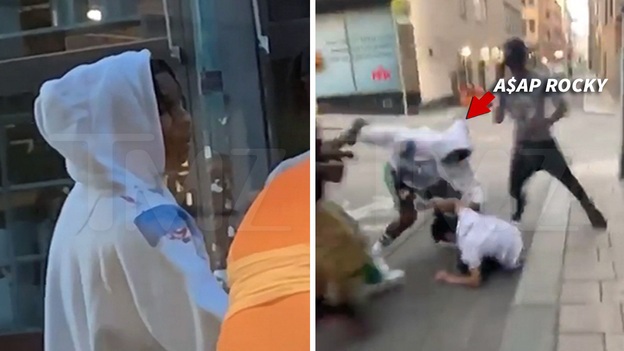 Sources reportedly say the two men kept following Rocky and threatened to call the cops over the headphones. Someone stepped in to translate the argument between the two group of men and Rocky issued an ultimatum — stop or else.
A woman interrupted the conversation and accused one of the two men of grabbing her inappropriately. Witnesses say at that point Rocky and his entourage decided to attack.
During the fight, someone smashes a bottle and three other men jump in to join the beatdown.
After Rocky and his friends fled, an ambulance and cops were dispatched to the scene. Police took statements from the witnesses at the scene.