Curtis "50 Cent" Jackson will be the executive producer of the hour on Sunday night (Sept. 26) when his all-new crime series, Black Mafia Family (BMF) premieres on Starz at 9 p.m. ET, immediately after the 8 p.m. ET season finale of his fan-favorite show, Power Book III: Raising Kanan.
The latter is the third installment in his Power universe, and reveals the origin story of main antagonist Kanan Elijah Stark — originally portrayed by 50 himself. (The NAACP Image Award winning original Power reigned from 2014 to 2020, while the sequel, Power Book II, premiered in Sept. 2020 and was reportedly renewed for a second season.)
Now, with Sunday night's premiere of standalone crime series Black Mafia Family — based on the real lives of Detroit brothers turned drug kingpins, Demetrius "Big Meech" Flenory and Terry "Southwest T" Flenory — 50 Cent is returning to his musical roots. (50 also cast Big Meech's son, Demetrius "Lil Meech" Flenory Jr., to play his notorious dad.) Meanwhile, the rapper is also responsible for the series' theme song, "Wish Me Luck," featuring fellow music icon Charlie Wilson.
50 Cent tells Billboard that a radio version of "Wish Me Luck," which includes additional feature appearances from Snoop Dogg (who appears in the all-new BMF as Pastor Swift) and recent hitmaker Moneybagg Yo, will soon "be performing as a single everywhere," with an accompanying music video on the way. The song will be available for streaming on Sunday night to coincide with the Black Mafia Family premiere.
Ahead of its premiere, Grammy-winner, 41-time Hot 100 charter and executive producer 50 Cent talks with Billboard about the making of Black Mafia Family (which he conceptualized more than four years ago), casting Snoop Dogg and working with Charlie Wilson. He also explains the importance of incorporating spirituality in a true crime series, and gives advice on how to combat cyber bullying.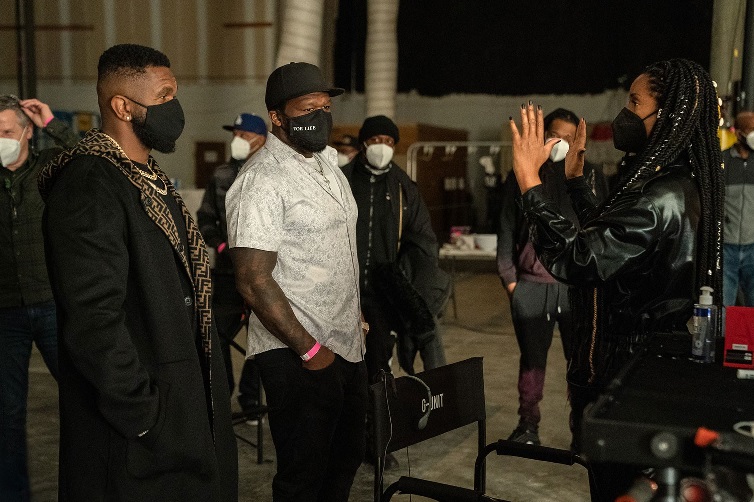 How have you been able to keep your fans loving and watching the Power universe since 2014 and now with Black Mafia Family, how proud do you feel leading up to the premiere after keeping this long-standing partnership with Starz network?
It feels good. When you said you've been a fan of the music early on, I don't think I'm finding a new audience — I'm finding my core audience, [who supported me] from the beginning. We've grown and in life and things have changed a little bit. Now they're not available at every single moment like they were in college in 2003, but they are available to turn on the TV.
I'm telling the stories that would have been told in the music. Initially with the success of Power, shifting off to BMF is creating a true story and it's different. I think it's a little more intense, the way people watch programs that they know are true stories.
What do you think is the key difference in the way viewers consume fictional programs vs. shows based on true stories?
It adds nuance to projects that we probably wouldn't just get creatively.
In the BMF series, their parents had Christianity in their household. It was definitely a struggle with their children's choices. That didn't loan itself to Raising Kanan or to Ghost and that was really in the DNA of the people [Black Mafia Family is based on] and what that experience was like.
For Meech, he was like, "I was the whole bad guy, the whole outcast of the family for trying not to starve." From his perspective at that point, he isn't responsible for his own actions, he was a minor. If you ask a kid to make the decisions, they're almost gonna make the wrong decision all the time. In the early stages of our lives, we're not able to weigh our options the right way. His mother and father were looking look at it like, "This lifestyle is going to result in you being dead or in jail." So they can never be comfortable with [their sons'] choice.
I'm glad you mentioned spirituality, in this case Christianity. Pastor Swift is played by Snoop Dogg and I think it's full circle because you two released the hit "P.I.M.P" in 2003. What made you feel he was the perfect fit for the role?
With Snoop, I knew he would have a field day with the character. They initially cast me in that role, and I knew that I would be doing the marketing for Raising Kanan — and because of my voiceovers in that show, coming directly off of that as a minister [when the shows air back-to-back], I felt it may not connect the way I would like it to. The finale of Raising Kanan is Sept. 26 at 8 p.m. ET and the premiere of Black Mafia Family is Sept. 26 at 9 p.m. ET, because it's so close to each other, I didn't want that to clash.
I was like, "Snoop would do a great job at this" — and I was able to reach out to him, and get them to commit to it because he was already a big fan of Power and a big supporter of me publicly. He was like, 'Yo, this is like my favorite s–t.' He would be saying that constantly. When I came around to the casting for the actual show, he was excited that I had the luxury of directing it.
Because of COVID, I shot his performance in the episode before me and my episode, because we had an additional quarantine for seven days because someone tested positive [for COVID-19 amid the pandemic].
In addition to Snoop playing the role, what is the importance of including spirituality as a whole?
The dynamics when you tell a story that has criminal elements, and what their's family involvement is, people kind of avoid their religions. Growing up with my grandmother, I had two groups of people. With my grandma, when something went right, she would say, "You are truly blessed." Then the people that are active outside would say, '"You lucky as a motherf–ker man," for the same exact scenario. [Laughs.]
They would say "lucky" and they wouldn't relate it to their actual religious beliefs, because the beliefs we were brought up under say everything they were doing in the streets is wrong. They don't want to be conscious of that at the point when they're actively involved in that stuff. They push those things out of their minds, so they're not really dealing with doing something that conflicts with how they were raised.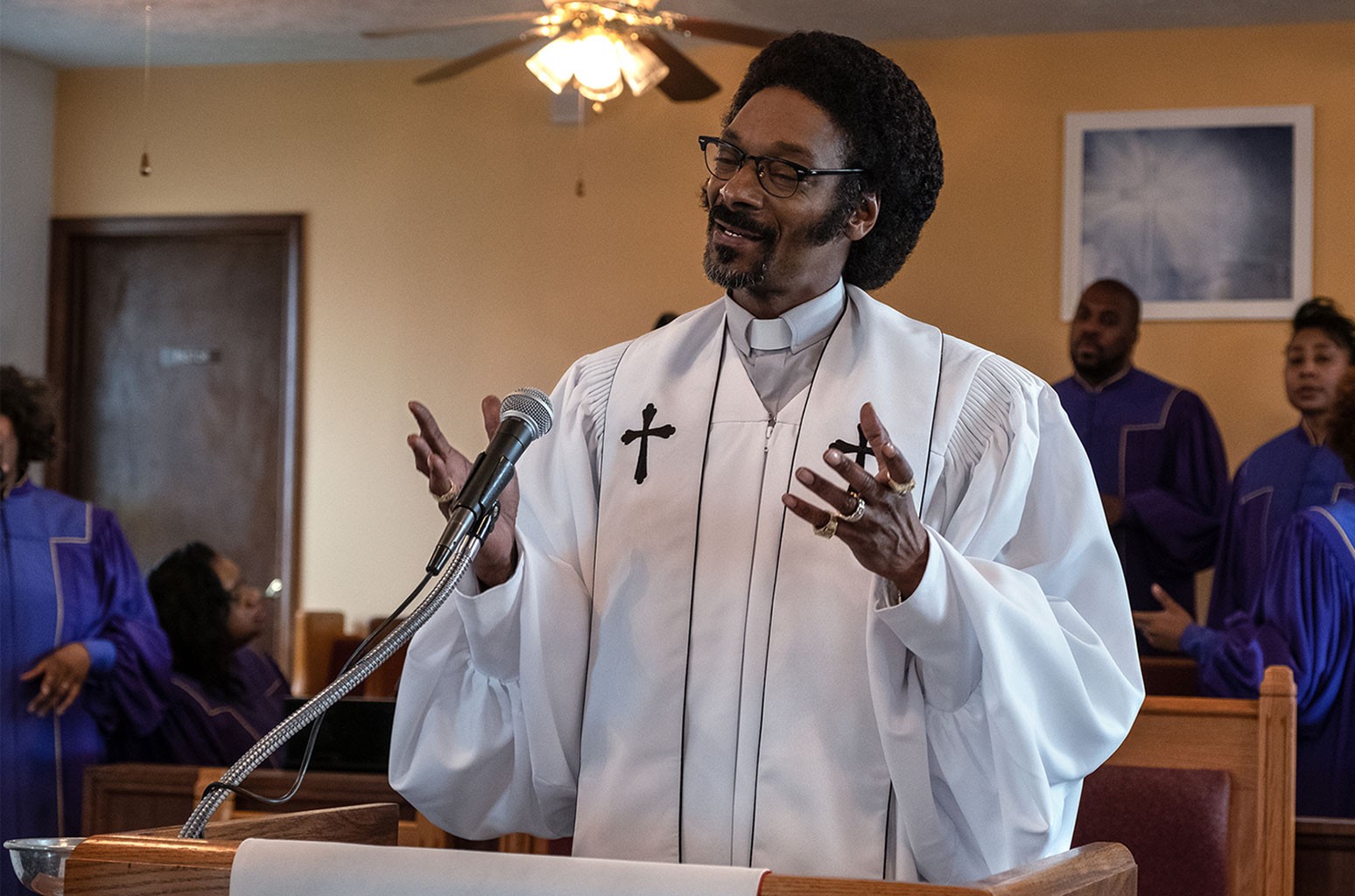 Now that you're in this position and you've survived so much from your own life choices, do you have any advice to young people who may watch this show — about making lifestyle choices that will not only benefit them now, but look out for their long-term success and safety?
It's interesting the way you said that, because this first season — everybody's been them before. This level of involvement is "entry level." Everyone who has been part of that lifestyle, even a little bit, is gonna identify what they're seeing happening in the first season. It's a responsibility to tell the entire story, so they understand the outcome of it, and so you would understand and see the innocence of them in the beginning.
When you're winning, people don't have sympathy, they act like you don't have an emotional connection at all.
I feel like the same thing applies to you. People forget 50 Cent is Curtis Jackson, just a person.
Right. The way to defend yourself emotionally at points is — you gotta let it not matter how they feel. When you look at it, socially [online], they can say anything to you. So, if you allow what they say to matter, you'll be an emotional wreck.
I see what you say on social media, but at the end of day, you're focused on the work. I was going to ask if you have advice to new artists on how to combat naysayers on social media but you gave some advice.
A lot of times, new artists are very vulnerable to all things people say. It could spin them out of control, spin them off their game and get them in the trouble.
In Episode 107 that you directed, are there any details that scream "50 Cent" that viewers can look out for?
When we do the time lapses and stuff like that, with the camera movement, I wanted to make sure that how we move from one scene to another scene was cohesive. If they show you a car moving in one direction, the next camera movement follows your eye line. I intended for that to be that way… I made sure they brought something different to it than what they had already done, because I had the chance to watch each episodes daily before I popped in.
I'm gonna win an award for my episode. They better give me a trophy — if they don't, I'll get one made and put it on the mantle. [Laughs.] I feel really good about it.
How hands on were you with the music composer Meshell Ndegeocello and Tank with working on the sound for Black Mafia Family?
It's really important. I spoke to them several times about why they should have a certain feel and where they should place music. As far as the theme song, ["Wish Me Luck"] with Charlie Wilson, Snoop Dogg and Moneybagg Yo… The theme song and the chorus is the same production, but the song starts with Moneybagg Yo — that's the center of the song — and Snoop performs at the end to top it off.
As an artist yourself, how big of a role did you feel the music in the series plays in telling the story?
It's important that we offer the right musical pieces at points. When you ask about the music supervisor, [Meshell Ndegeocello], you have to understand the right time period. We offer some hip-hop culture because BMF being relevant to hip-hop is important — but what was hip-hop in 1980? It was the baby at that point. It wasn't as big, it didn't have the same audience and effect that it has now.
We had to find the right R&B music and the things that make the show not feel soft. Back then, R&B had buttons, it was love music. We had to find those nuances that weren't so relationship-based, that really fit the [scene] and time period. They had a lot of dance music at the time too.
Raising Kanan and these shows will change because their [setting and time period] is starting to get closer to where we are [now in real life].
Did each of you — Charlie Wilson, Snoop Dogg and Moneybagg Yo — write your own verses for "Wish Me Luck"? Who is the producer?
We all wrote our verses, individually with me, Snoop and Moneybagg separately. As soon as I sent the record to Moneybagg, he was like, "I'm doing this tonight." He sent it right back. I this is actually a place in my dad.
The producer is S.Dot. Whenever I play live, he plays in my band.
I'm excited to see what else you're going to executive produce.
It's gonna be good. I'm going to to raise the bar . I've got some projects that I'm sure they're gonna look at and go, "I didn't necessarily expect that from him, but this is really good."
You know what would be really crazy 50, if you do some type of kids animated program that's educational. People are gonna be like, "What?"
You're gonna feel like I stole your idea. [Laughs.]
No, I'll feel very important. I'll be like, "I remember that one time I spoke to him and look what happened."
Can you walk me through the creative process of "Wish Me Luck"? Why did you choose to collaborate with Charlie Wilson specifically.
When I looked at the song, with Charlie Wilson, there's nobody that can duplicate that sound, that the energy is put in the music because it goes back to old school Charlie Wilson, because he's gonna do it his way regardless. When the record came back, I was excited because I knew we had the base for the actual hit record.
People really appreciate this song. I couldn't even change the theme song, I tried. People were like, "Put that s—t back."
When I got the song back with his vocals on it, I was completely happy with it. Then I got Moneybagg Yo to do his portion of it first. Because we masked up on the record, it was a little choppy, so I moved it to the front. He heard what I did and wrote his verse behind it. After he completed his, I thought it was a better song with him opening it. I put his vocals in the front and dropped the production, the drums out, because I'm trying to make the best record we can make, period.
Some people want to hear themselves first, like they haven't heard themselves their whole lives. I've heard myself enough. [Laughs] I put Moneybagg Yo in the front and let him set the record off. It came out the right way. The way Snoop Dogg came onto it, it feels like a whole hit record.
Now that we know "Wish Me Luck" is about to come out, can fans expect more music from you or a full project?
I'm gonna come out with a full soundtrack for BMF.
Was Charlie Wilson always one of your musical influences growing up?
Charlie Wilson is the only one [of his contemporaries] still rocking and busy. It's crazy. Everyone else in that period, I don't know if they stopped singing or we just stopped listening to what they're doing. Now that Charlie did those vocals, I was like, "Man, I gotta get with you on something else." This had a specific feel to it that I needed it for the song. I get to see things that vocally that I wouldn't be able to with a new artist because [Charlie] has his own way of doing it.
This is a great introduction to Charlie Wilson for the younger generation who maybe doesn't already know him. Is it more challenging to create a theme song that embodies a show vs. a traditional song?
The Power universe, all of those songs match up with each other. They're a little different production wise, but they embody different times. Raising Kanan had to feel like the '90s in [my hometown of] South Jamaica, [Queens, New York]. The biggest theme or song that was a representation and matched the time period was Keni [Burke's] "Risin' to the Top." I had to replay that in order to create that feeling in the theme and it was perfect to match that show in the '90s and show the trauma and things that [my character, Kanan Elijah Stark], experienced that made him who he was in Power.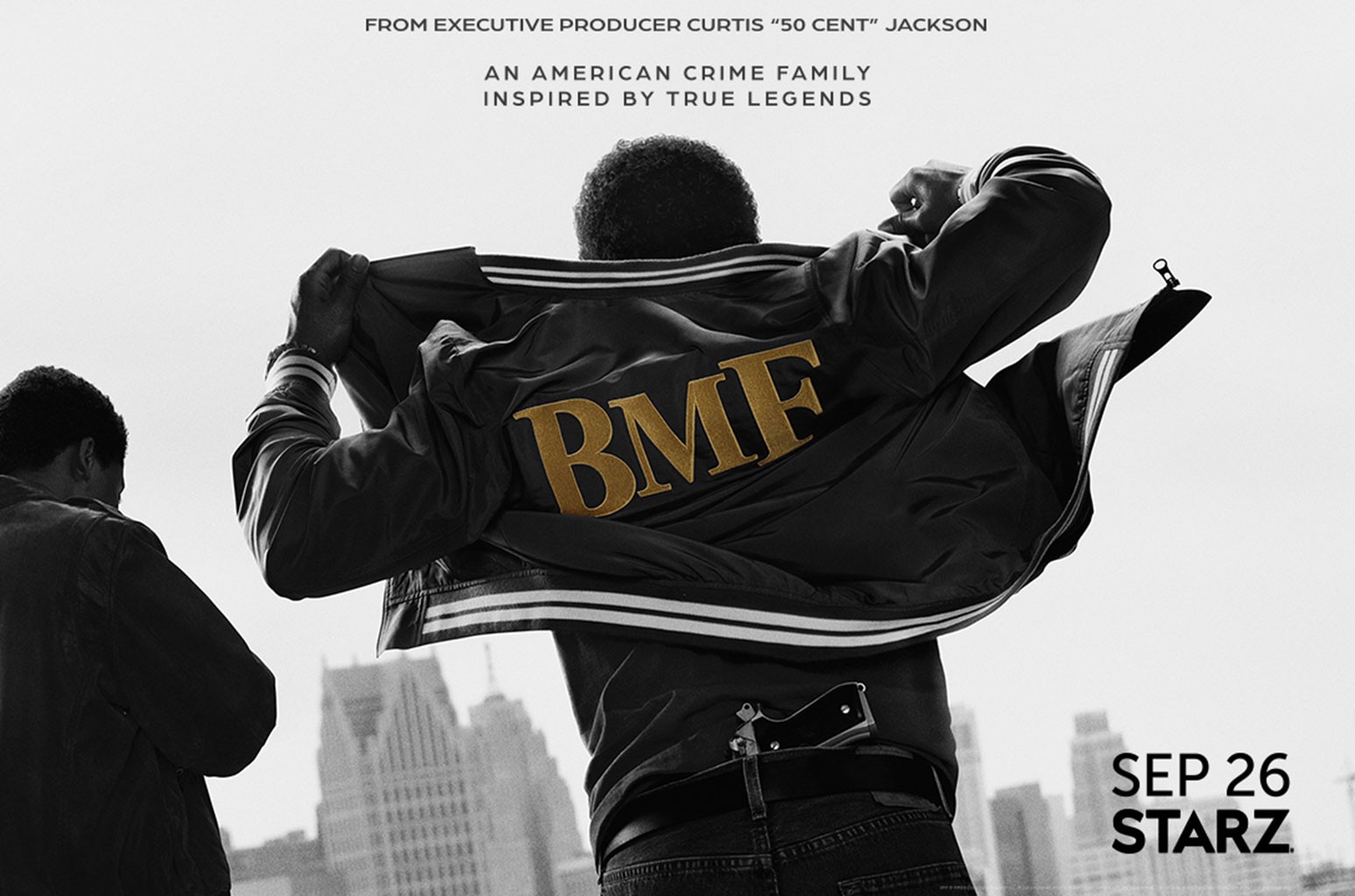 BMF is connected to hip-hop itself, like how Big Meech is mentioned in so many songs. When you look at your own music career and hip-hop today in the era of mumble rap and new artists, what are your thoughts on the evolution of hip-hop and how the style has changed through the years?
I think it's reflecting the way that energy is out here as we move to southern markets.
We [hip-hop artists] were in New York and California, predominantly. The focus was coming from those places because it was the East Coast vs. West Coast [rap] war and the completiveness of hip-hop culture was there. As you get to the southern markets, dance culture becomes a bigger part of it. That's why now you see people having songs on TikTok that are becoming hit records. They showed you how to dance to it before you knew the words.
As the crack house turns into the trap house and they move into the southern environment, they also made these consistent references about Meech and them, because they were the largest indictment that came down in 2005, so that's the part of the connection and why they feel that way about it at the present moment. A lot of the southern artists would make reference to that lifestyle. This is what creates that aura that makes BMF. Like the Flores twins, but they don't resonate because culturally it's a little different.
Of all the kingpins you could have highlighted, why did you choose brothers Big Meech and Southwest T?
I chose them because of the family dynamic and them being brothers. All of the details that people didn't know about the story, they will get a chance to learn as the series goes. We all have family we love them all, no matter how we feel about it, or somebody close enough to treat like family. Having them both be brothers, they've been around each other all their lives, they got involved in and went to the gate with it. They stuck to the codes of the lifestyle they chose.
When did you start conceptualizing Black Mafia Family?
We started to conceptualize this four and a half years after I showed it to Starz. The first attempt to do this was with a writers' group, Darnell Metayer and Josh Peters. They went on to write Transformers, Teenage Mutant Ninja Turtles, and they wrote Cannibal for Apple.
It didn't work writing [Black Mafia Family] with them. I was watching them struggle with the notes from the network. They had an idea and the network had a different vision for it. I told them, "Don't do this one, let's do something together." I watched them struggle with it.
From a production standpoint, when we win, we all win together. When we lose, the writers lose, by themselves. [Laughs.] Because I like them, I said, "Yo, don't put yourself fin a situation where you're forced to work on this project in a certain way when you're not comfortable with it." I currently have a series with them that I'll be announcing shortly that's picked up, that's in development as well.